'The Blind Side' Star Michael Oher Says $300 Million Film Hurt His NFL Career: 'I Don't Like That Movie'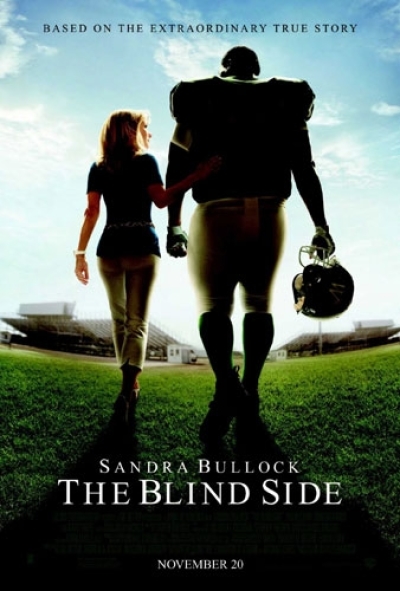 The 2009 film "The Blind Side" earned over $300 million at the box office and scored an Academy Award nomination, but the lead character in the story, Michael Oher, says its popularity "downgraded" his NFL career.
Oher, who was portrayed by Quinton Aaron in the critically-acclaimed film, was the inspiration behind author Michael Lewis' best-selling true story, The Blind Side. Adapted to film, "The Blind Side" starred Sandra Bullock and followed Oher's struggle with poverty before he was adopted by a devoutly Christian white family.
The real-life athlete went on to play football at the University of Mississippi before the Ravens picked him in the first round of the 2009 NFL draft. Today, however, Oher says the film has diminished his career.
"People look at me, and they take things away from me because of a movie," Oher said Wednesday, according to an ESPN.com report. "They don't really see the skills and the kind of player I am. That's why I got downgraded so much, because of something off the field."
The athlete, who plays for the Carolina Panthers, addressed the film after getting into a fight with second-year defensive end Kony Ealy during Wednesday's minicamp practice, which Oher said was the result of having to prove his worth to the team.
"This stuff, calling me a bust, people saying if I can play or not… that has nothing to do with football," said the athlete. "It's something else off the field. That's why I don't like that movie."
Oher also claims that the film has "taken away from" his athletic abilities since people are scrutinizing him on "every single play."
"I'm getting watched for everything," he said. "I know what type of player I am. Everybody else that I know knows that type of player I am. So that kind of stuff doesn't worry me."
"The Blind Side," which earned Bullock an Academy Award, has also come under fire for containing explicit profanity, such as God's name being used in vain, and a racial slur. Although the film is an inspirational story of Christian compassion and hope, LifeWay removed it from store shelves.
Some outspoken evangelical Christians, such as best-selling author Eric Metaxas, expressed disapproval of LifeWay's decision.
"I'm kind of upset. A great movie was pulled from the shelves of a Christian bookstore chain," said Eric Metaxas at the time during an interview on  Breakpoint Radio. "I'm as concerned about the cultural messages as anyone. I'm a father. But there's a right way and a wrong way to do this — the wrong way definitely includes the permanent state of umbrage that many Christians seem to exhibit. They seem to have confused being salt and light with being curmudgeons."