The Bowery Mission Offers True Life Transformation on Thanksgiving and Year-Round
CP Takes Behind-the-Scenes Tour of One of NY's Largest & Oldest Faith-Based Charity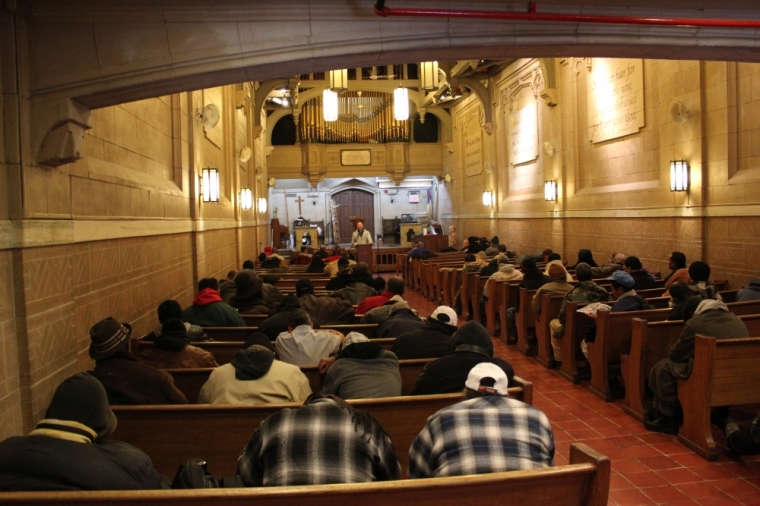 NEW YORK – As various groups and parishes serve the thousands of poor and hungry on Thanksgiving Day, The Bowery Mission, one of the oldest and largest faith-based charities in New York, is reminding the public that people need more than food on their way to a full and wholesome recovery.
The Bowery Mission first opened its doors in 1879, and has grown to become one of New York's largest charities, providing food, shelter, showers, clothing, medical care, and residential recovery programs to the homeless and hurting, all free of charge. This Thanksgiving Day, the nonprofit organization will be staffed by over 700 volunteers, who will serve over 5,000 meals on Thursday alone. The Christian Post paid a visit on Monday to The Bowery's main building in Lower Manhattan, where staff and volunteers were busy preparing for what they describe as the biggest week of the year.
James Winans, Chief Development Officer at The Bowery, gave CP a tour of the main building, which is five storeys high and includes a roof with a garden growing all sorts of produce – one that luckily remained mostly undamaged from Hurricane Sandy in late October, one of the most devastating storms to hit the Tri-state region in recorded history.
"This is one of the only places that's left in terms of originality, and the fact that people can still come here from all walks of life," David, one of the guests, told CP.
"I think they do a really great service here, in terms of the nutrition program they have in place, the help services – whether it's mental, physical, referral services, the clothing, you know they do a lot."
CP's tour of The Bowery building began with the century-old chapel, packed almost to capacity with over 100 guests, which is to be decorated for the occasion on Thanksgiving Day. A reader, dressed in casual clothing, spoke from the Bible before the congregation. Winans said the Bowery's ministry has been non-denominational from its conception, and people from all walks of life are always welcomed.
Adjacent to the chapel is the main serving area, where guests go to have lunch after the service. During Thanksgiving week, The Bowery's kitchen, where most of the volunteers spend their time, will cook up 500 turkeys, 1,000 pounds of potatoes, 900 pies, 800 pounds of stuffing, and 260 gallons of gravy. The kitchen was already buzzing on Monday, with some volunteer groups traveling from as far as Florida to assist with preparing the food from the well-stocked pantry so that it is ready for the big week ahead.
Video: Former Guest Shares Testimony at The Bowery Mission

On Thanksgiving Day, every guest will not only receive a meal, but a free coat as well. The Toys for Tots program is providing each child a new toy, and other partners like The Hain Celestial Group and Whole Foods Market have contributed for the "Blessing Bangs" that will also be handed out – which include important winter and hygiene items, such as hats, socks, gloves, soap and toothbrushes.
In late October, Hurricane Sandy hit Lower Manhattan hard, causing widespread flooding and power outages. The Bowery building did not experience big flooding problems, but like much of the rest of the area, their power went out.
"We had 150 men with us who had come in from out of the storm for emergency shelter, because their traditional places of refuge, like the subways and the park, had been closed by police. We lost power that night and didn't have power until a week later. We operated off a generator that someone donated to us. For many nights, we were the only light in the neighborhood, the only light in the street," Winans previously told CP.
Before the storm, there were 50,000 New Yorkers who were already in shelters or on the streets. Hurricane Sandy has bumped up that number by another 20,000, the organization estimates – making the work that they do more important now than ever before.
Slideshow: Behind the Scenes at The Bowery Mission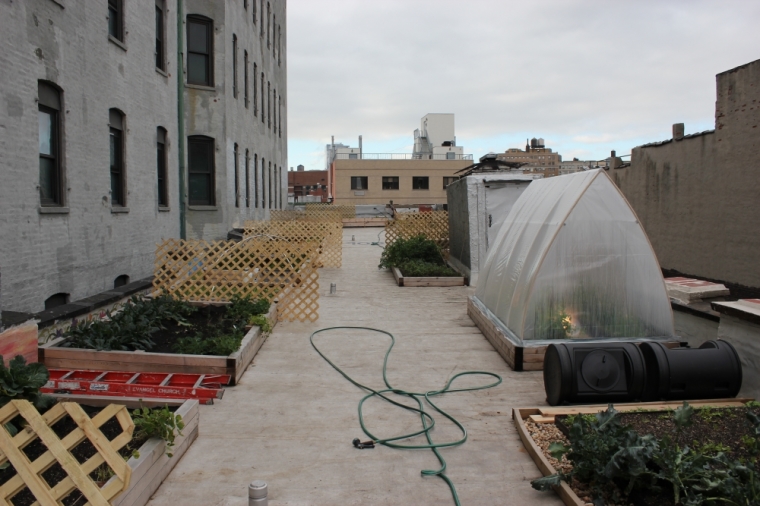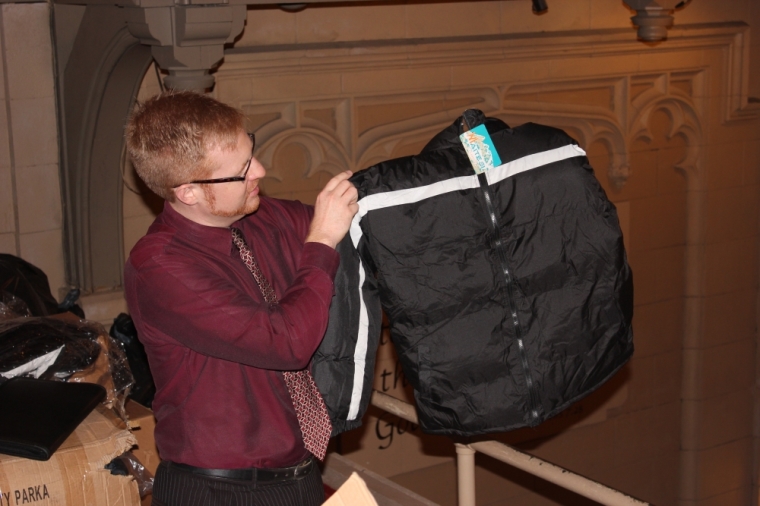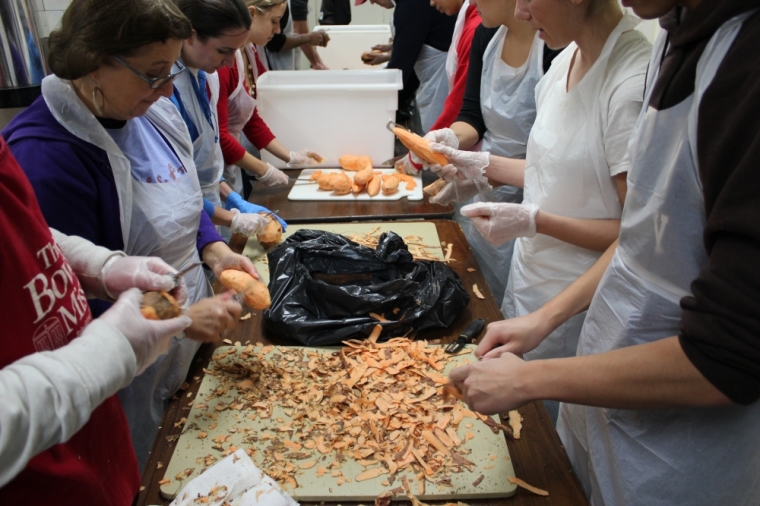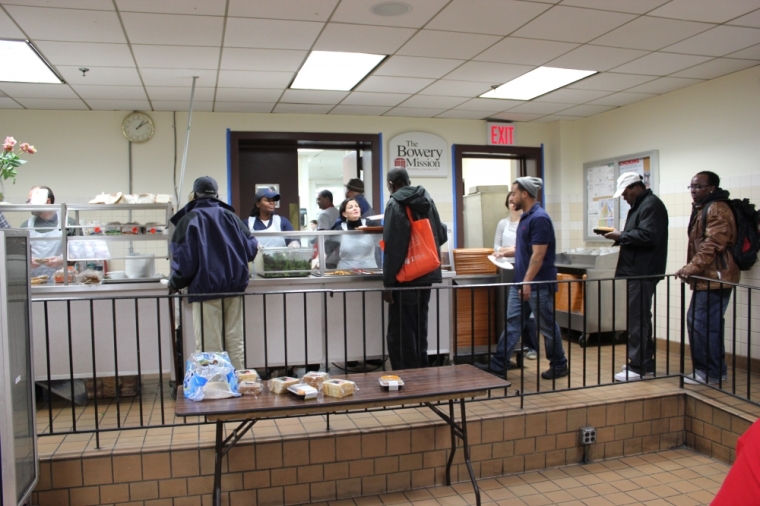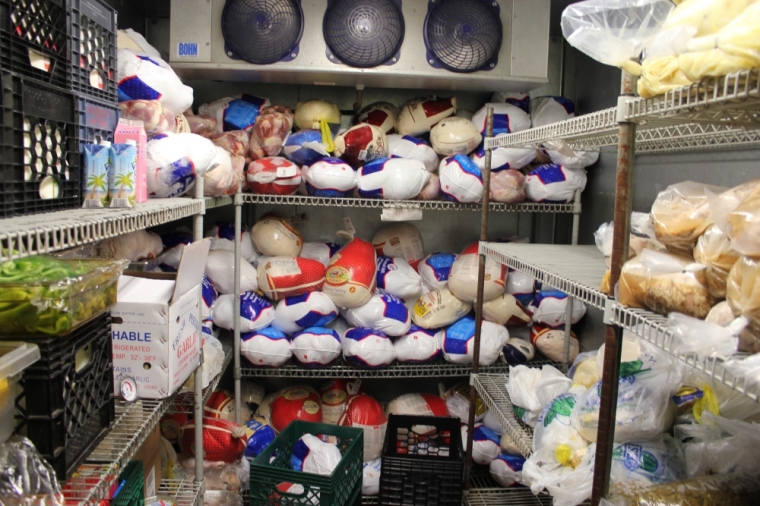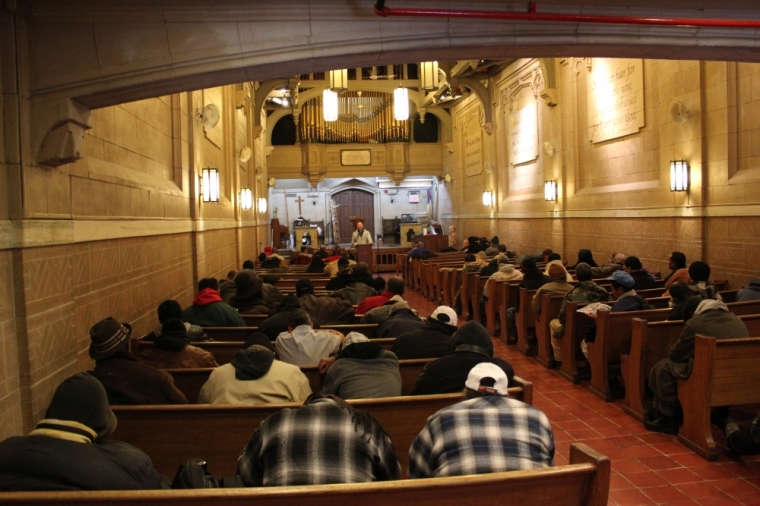 View Photos
The Bowery's goodwill extends far beyond providing food and clothing, however. As Winans showed CP, the upper floors of the building offer important new opportunities for guests. A temporary dormitory helps those who sign up for its 6-month recovery program work toward overcoming abuse and addictions with the help of social workers and counselors. The program in Lower Manhattan is for men only, but there are other locations in the city that serve women as well.
When they graduate from the program, guests move up to the bigger dormitories, where they sleep on double-decker beds and have at least some privacy and personal space provided. One-on-one tutors, who are volunteers, and career guidance counselors provide these graduates with critical job-hunting skills that allow them to get back on their feet, find a job, and eventually move out of the Bowery's dormitories, ready to face life's challenges with new strength, readiness and determination.
Computer and medical centers are also available in the building, where medical personnel is always present to help guests both with their long-term and short-term needs. CP's tour of the building concluded with a visit to the rooftop, where several plots, including a small greenhouse garden, grow various vegetables that were only recently harvested, including peas, cabbage, kale, various types of beats, radish, carrots, onions, spinach and broccoli.
All in all, The Bowery Mission stands as a place that provides support for the whole individual – for every person's social, economic, educational and spiritual needs.
"Only in an environment of love and accountability can we see true life transformation," the Mission declares as one of its main mantras – and with the support of the many volunteers and generous donations of caring individuals, they will continue providing New Yorkers with crucial services for many Thanksgivings to come.
Myles Collier contributed to this report.