The Christian Post's top 10 news stories of 2019, Part 2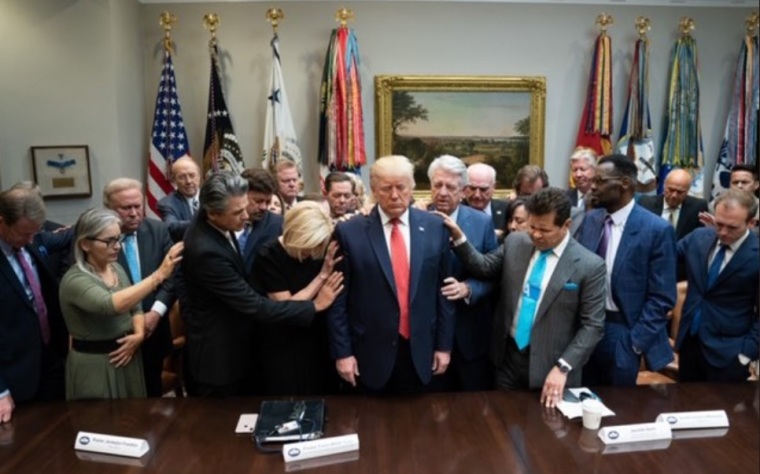 4. Evangelicals divided on Trump and immigration, Syria, impeachment
Debates over evangelical support for President Donald Trump continued to be a point of contention in 2019.
The topic has appeared in every "CP Top 10 News Stories" list since Trump became president: 9. Evangelicals debate social justice, alliance with Trump in 2018, 2. Evangelicals in the Trump White House in 2017, and 1. Trump and Evangelicals in 2016.
Since his election, evangelicals have been split on whether to support Trump, with Trump's evangelical opponents being mostly young and non-white while Trump's evangelical supporters have tended to be mostly white and older.
Those splits mostly held in 2019, even amid Trump's controversial immigration policies and as the U.S. House of Representatives impeached him Wednesday night. One notable exception in 2019 was Trump's decision to pull troops out of Syria, which was opposed by even some of his strongest evangelicals supporters.
Trump's restrictive immigration policies continued in 2019. Critics contended his policies were cruel toward asylum seekers and especially migrant children. Supporters tended to agree with Trump's defense that the policies were necessary to discourage illegal immigration.
Trump also continued to restrict refugee resettlement in 2019, all the way down to zero in October. These restrictions included Christians fleeing persecution. The Evangelical Immigration Table and World Relief, one of the organizations that helps resettle refugees, were among those warning of the dangers of this policy.
While there were calls for impeachment after the release of the Mueller Report in March, it wasn't until a whistleblower report was revealed in August that Speaker of the House Nancy Pelosi decided to proceed with an impeachment inquiry. The whistleblower alleged that Trump attempted to withhold aid to Ukraine unless the president of Ukraine made an announcement that would potentially damage his likely 2020 rival, former Vice President Joe Biden.
In May, after the Mueller Report came out, the Rev. Franklin Graham called for a "special day of prayer" against the "enemies" of Trump, who he called "demonic." He also warned that impeachment could lead to a civil war.
Graham echoed those concerns in November in an interview with radio host Eric Metaxas, describing opposition to Trump as "almost a demonic power," to which Metaxas objected to the inclusion of "almost."
On June 2, a Sunday and the day of Graham's "special day of prayer," Trump was golfing and made a last minute decision to show up unannounced at McLean Bible Church to ask Pastor David Platt to pray for him. Platt is not generally considered a Trump supporter and was not participating in Graham's "special day of prayer."
Platt obliged the request, praying in part, "And so we stand right now, on behalf of our president, and we pray for Your grace, and Your mercy, and Your wisdom upon him."
Trump's Syria policy in 2019 united most evangelicals in opposition.
On Oct. 6, after a phone call with President of Turkey Tayyip Erdogan, Trump announced a withdrawal of about 50 U.S. troops in Syria along the border with Turkey. The troops' presence was a deterrence to a Turkish invasion. Trump's decision paved the way for Turkey to invade northern Syria and attack Kurdish and other forces, who have long been U.S. allies, especially in the fight against ISIS.
The invasion led to the displacement of 180,000 people, including 80,000 children and some of the few remaining Christian villages.
Pat Robertson, host of Christian Broadcasting Network's "The 700 Club," warned that Trump "is losing the mandate of Heaven if he permits this to happen."
Family Research Council told CP that Turkey's invasion would not only "expose and betray U.S. friends and allies" but also "lead to the death and displacement of thousands of religious minorities who have found protection and religious freedom under the Syrian Democratic Forces (SDF) and the Autonomous Administration of north and east Syria."
Napp Nazworth contributed to this report.