The Getty's Say All Christians Should Sing: 'To Not Sing Is to Live in Disobedience' (Interview)
The Getty's Say All Christians Should Sing: 'To Not Sing Is to Live in Disobedience' (Interview)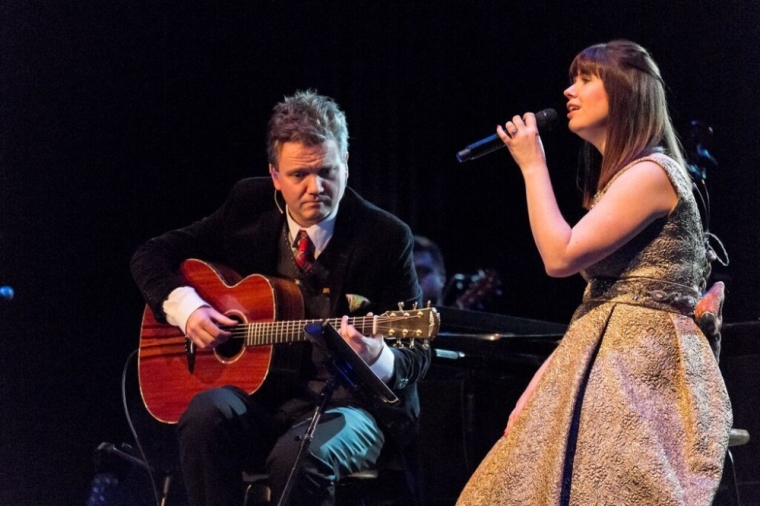 World-renowned contemporary hymn writers The Gettys just finished their fifth annual Christmas tour and are now embarking on a new project to encourage all Christians to lift up their voice in song.
"The next thing that we're really excited about is that we're pulling all the things that we do under one roof. The whole theme of everything is going to be singing and getting people to sing," Keith said in an interview with The Christian Post at New York City's Carnegie Hall during their Christmas concert tour last week. 
The Gettys' hit song "In Christ Alone" is sung by more than 100 million people worldwide every year, and now the modern hymn writers are hosting their first Global Music Conference in the new year which Keith says he's very "excited" about.
The husband and wife duo are also gearing up to release a book titled, Sing, which Keith says is aimed at encouraging people to sing without fear. An album to accompany the book will also be released, along with a Gettys children's album.
"Singing is going to be the theme of everything we're doing for the next two years, from books to tours and everything," he said, emphasizing that having a good voice in order to sing is "utterly irrelevant."
"God's people singing is something that we were created to do, we are created to sing to God," he said. "The picture of Heaven, being part of the new creation, actually given is God's people singing together — [every] tribe, nation, every tongue and language."
"We're commanded to sing over 300 times in Scripture whether we like it or not, whether we feel like it or not. To not sing is to live in disobedience," he asserted.
Keith and his family believe that singing should be the natural outpouring of worship among all Christians.
Emphasizing his point, the Irish composer cited the psalmist King David from the Bible, saying: 
"'The Lord is my shepherd and God is my strong salvation.' And then what does he do? Well he sings and he responds, 'Then I will pray — I will sing, I will shout for joy.' So, that's our natural thing," he said. "It helps us grow as individual believers, it helps plants trees in our lives. We learn our Bible verses, we learn to submit our emotional feelings, which usually, like mine, are pathetic and wayward at times."
The father of three then talked about the importance of singing as a family. Their Christmas concert this year echoed that sentiment as he and his wife created a community style worship experience for their audiences as a way of coming together and healing following the divisiveness of the elections. 
"It's important to be doing it [singing] together, in our family units. It's important. Do it together in community and our churches," Keith insisted. "It's our radical witness."
The 42-year-old revealed that he was inspired while reading about Paul and Silas in prison, and called their singing in prison the epitome of a "radical witness."
"If you look at the Church, every Revival in history, there is a documented record of just singing. So, we want to see that in our churches. We want believers to sing songs, to sing them passionately. We want churches to be known as passionate, joyful places where we can connect with our Creator," Keith said.
In 2015, Keith and Kristyn first kicked off their initiative and teamed up with OMF International for a global music event that brought churches together in song from all over the world. Their version of the powerful hymn, "Facing a Task Unfinished," served as a worldwide anthem to raise awareness about Christian persecution worldwide.
The song was originally written by China Inland Mission worker Frank Houghton in 1931 (now OMF International) as he reflected on the Great Commission and the scripture Matthew 24:14, which encouraged him to dedicate his life to sharing the Gospel with people in China.
The Gettys donated all of the song's royalties to missionaries in China.
They are not finished with their life's work yet and are showing no sign of slowing down. For more information on the Gettys, visit Getty Music.