'The Liberation Project' Podcast Redefines Masculinity and Manhood for a Fatherless Generation (Interview)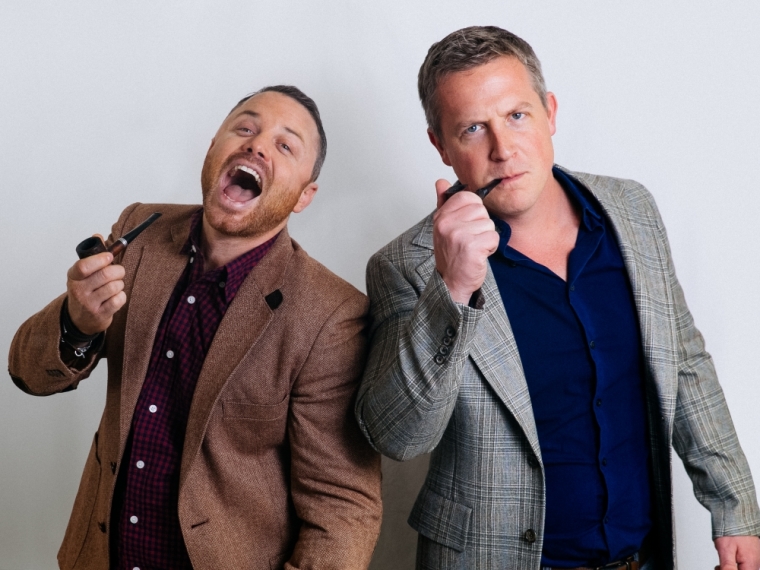 Best friends Blair Reynolds and Justin Stumvoll, hosts of the "The Liberation Project" podcast, started their program after observing what they describe as an absence of masculinity among men in the Church.
"I was absolutely grieved," Reynolds said in an interview with The Christian Post. "When I became a Christian I was saddened by the lack of masculinity in the Church. It baffled me how passionless and passive so many men were."
During their youth, Reynolds and Stumvoll said when they encountered the Lord they noticed they became more manly, a real shift in their hearts had taken place. But they struggled to know how to express and live that out, particularly in a Christian context.
"Growing up I saw Jesus as a lion and a lamb," said Stumvoll. But in churches he only saw men who were lambs, these "guys who were easily run over."
"When men would come to Christ, suddenly so many would stop caring about the things that brought them life," he said.
That stood in stark contrast to the secular models of manhood in pop culture they found just as objectionable, especially the sex-crazed, emotionally disconnected, egotistical men who are failing to be fathers to their children.
"Those things are the antithesis of what it means to be a powerful, masculine male," Reynolds asserted.
Faced with these extremes, the two set out to find the middle ground and confront the paralyzing fears that have debilitated generations of men in an effort to minister to those who have found themselves to be passive and uninspired.
Thus, in October 2015, they launched "The Liberation Project," which aims to empower men to live the fullness of their godly identity.
Reynolds, who hails from Topeka, Kansas, told CP that Jesus got a hold of him after a DUI conviction shattered his paradigms when he was 21-year-old. Stumvoll, who was raised in Glasgow, Montana, said God arrested his soul one day as child when he was watching Billy Graham on television.
The two men, both 33 and professional life consultants, met and became friends in Redding, California, but formed a deep brotherly bond while on a five-month stint working together for Stumvoll's father's electrical contracting business in Montana.
It was during that season where on their 12- to 14-hour workdays they often talked about the pains of life and the gnarly issues they never felt they had permission to unpack. Because of the freedom and wisdom they gained out of those heart-to-heart conversations, they knew they could not keep it to themselves and resolved to create the space where they could give it away.
"When God gave us vision for this," Stumvoll recounts, "we sensed Him saying: 'Go apprehend the hearts of my sons that would never set foot inside the four walls of a church because my sons aren't refined enough for those four walls and I want you to meet them where they are.'"
Neither Reynolds nor Stumvoll are out to bash churches, but they don't hesitate to make painfully on-target observations about some cultural standards and behaviors that might stifle men. As they journeyed together they discovered that there is so much more to being a Christian man than the list of niceties religious norms require them to exhibit.
To that end they are building a gutsy, conversational on-ramp to pave the way for cultural renewal and the reclamation of masculinity. The average episode of the TLP podcast lasts approximately 45 minutes to an hour and no topic is too touchy or off-limits.
Speaking courageously about the struggles men face that polite Christianity tends to avoid, Reynolds and Stumvoll do not shrink back from sharing their personal failures and heartache from their own lives with incredible transparency. Such vulnerability provides the platform upon which both of them give great advice to listeners hungry for counsel and direction.
Raw, unvarnished frankness punctuates their conversations as they explore themes like "Male Body Bashing: The Undiscussed Epidemic," "Laying to Rest Our Father Wounds," and "How to Not Suck at Loving Others," all of which are titles of recent episodes.
Such heavy subject matter might seem like a drag to some, but Stumvoll and Reynolds aim to keep it light-hearted and accessible, frequently poking fun at each other, while deftly discussing the hard issues.
Every once in a while they invite like-minded guests who are equally passionate about ministering to the hearts of men and redefining masculinity. Interviewees in past months have included William Paul Young, author of the best-selling novel The Shack, and Kris Wolfe, who leads a dynamic men's group in Los Angeles and is the founder of Good Guy Swag.
On Valentine's Day, for an episode on romance and relationships, they invited on Stumvoll's wife, Abi Stumvoll, a popular conference speaker who regularly ministers at Redding's Bethel Church and their school of ministry.