'The Religion Thing:' Play Looks at Struggles of Interfaith Couple, Married Ex-Gay Man
NEW YORK — "The Religion Thing," by award-winning playwright Renee Calarco, explores the pitfalls of an interfaith marriage and how the past demons of a Christian couple (an ex-gay and ex-party girl) disrupt their new marriage and reformed lives.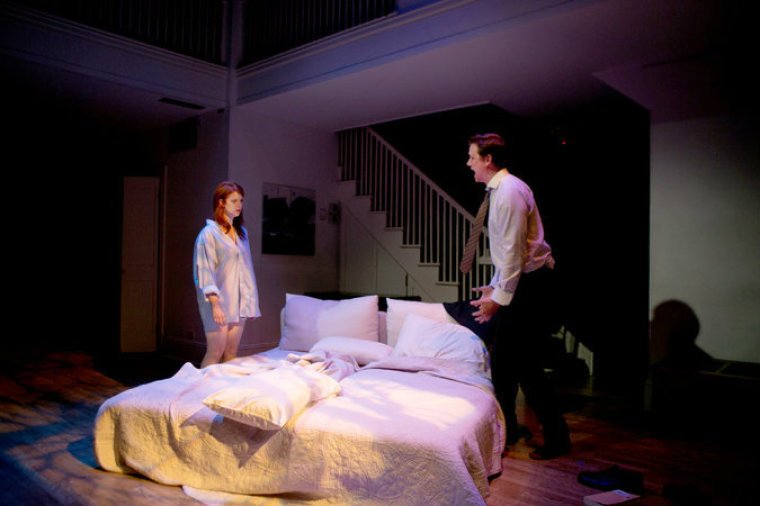 "The Religion Thing," making its run in New York City through Aug. 1, portrays how two career-successful best friends and their husbands manage being a lapsed Catholic (Mo) married to a non-practicing Jew (Brian), and a former and repentant party girl (Patti) finding "perfect love" with a born-again Christian (Jeff).
Jeff, whose story typifies much of the ongoing debate about Evangelicals and sexuality, insists like a good Christian that the past is the past and that "none of it counts anymore." Only trouble is, Patti's new husband has a reason for trying to bury his old life. And like each main character, his past comes back to haunt him — or, since he is an "Evangelical" — to tempt him in ways apparently no amount of prayer can avail.
"You're with some reformed gay guy, so now you're all about Jesus," Mo tells Patti, refusing to make much of her longtime friend's marriage or newfound faith.
While some might view Calarco's Christian characters as stereotypical (Patti and Jeff marry just months after meeting at a megachurch's singles event) or even cast in a negative light (are they truly converted or in denial?), the scenarios that play out seem to certainly ring true.
When Mo and Jeff get into a heated debate about whether people are born gay or choose a sexual expression, Jeff insists his former homosexual lifestyle falls into the latter category. Thanks to behavior modification, self-control and prayer, he is a changed man. But for Mo, and for some of the play's New York City audience, the term ex-gay does not exist and conversion, or reparative therapy, is a lie; a zebra cannot change its stripes.
In the bedroom is another story. It is there, at their most private and intimate moments, that Patti and Jeff give the audience a glimpse at the possible struggles, suspicions and hang-ups married ex-gay men and their wives face. Does Jeff close his eyes during sex because he is letting himself go, or is he reaching into the past? And when he confesses a slip-up and desperately vows, "It will never happen again!" — it is not quite clear if Calarco wants the audience to believe him.
As for Mo, she and her husband Brian are at a crossroads, with serious talk of having children finally showing them where they stand. "I want them to be mine," Brian tells Mo. He is afraid of having children who will have to straddle a half-Jewish, half-Catholic fence, or worse yet, who might reject the rituals and traditions of their father's faith.
"The Religion Thing" is very much an adult play, with occasional adult language (that does serve a purpose). The actors put on excellent performances and the brilliant transformation of The Cell theater's tiny set for a variety of settings are praiseworthy. It is the witty and well-timed dialogue, however, that makes the play worthwhile.
"The Religion Thing" is presented by the Project Y Theatre Company. The two-hour play features Andrew W. Smith (Jeff), Curran Connor (Glick, Grampa, Sister Mark Kevin, Bill), Katharine McLeod (Mo), Jamie Geiger (Brian) and Danielle O'Farrell (Patti). Learn more online: http://www.projectytheatre.org.