Pastor Greg Laurie Visits Set of 'The Voice' During Final 4 Selection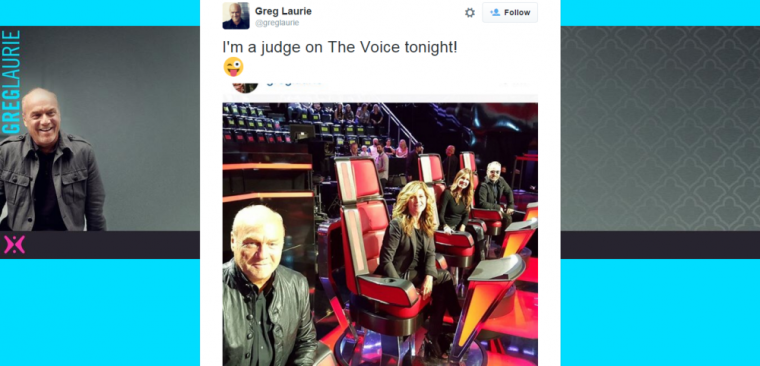 Pastor Greg Laurie and his wife, Cathe, visited the set of NBC's "The Voice" Tuesday night, ahead of the much anticipated selection of its final four contestants.
In a Twitter message complete with a winking Emoji, the Harvest Christian Fellowship senior pastor wrote: "I'm a judge on The Voice tonight!"
Well, not quite a judge, but Laurie did sit in one of the judge's seats and smile for cameras, looking rather official, which counts for something. It's no wonder that Laurie would gravitate to a show like "The Voice." The clergyman is no stranger to good music and follows performers on the Grand Ole Opry — retweeting his support for the Opry debut of Christian singer-songwriter Chris Tomlin just last weekend.
It seems that music has had a major impact on Laurie since childhood. On the pastor's blog, he recalls the first time he saw The Beatles perform on television. "I remember the first time I saw the Beatles on 'The Ed Sullivan Show.' I was living with my grandparents at the time. They were thoroughly disgusted with those four mop-top lads from Liverpool. But I was intrigued by their music … "
In the blog, Laurie fondly remembers days from his youth when he " … listened to 'Surf City' by Jan and Dean on the car radio. …" He also thinks back on the not-so-pleasant musical memories surrounding the drug-induced deaths of " … '60s cult heroes who self-destructed while still in their prime: Janis Joplin, Jimi Hendrix, Jim Morrison … "
Lead by a pastor with a strong appreciation for music, it's no surprise that Harvest Christian Fellowship has a program to nurture its musicians. The Musicians' Network meets on a monthly basis with the objective to encourage and provide instruction and fellowship for those serving God through music, or interested in doing so.
For beginners and intermediate learners, the group offers comprehensive instruction in guitar, drums, bass, vocals, music theory and even songwriting. The spiritual component of worshipping God through music is not left out. "At each meeting, you can expect a time of fellowship, a time of worship, a devotional time in the Word focused on topics related to serving the Lord in music," the church's website states.