Theologian Norman Geisler Explains How America Abandoned God, and What It Can Do to Reclaim His Favor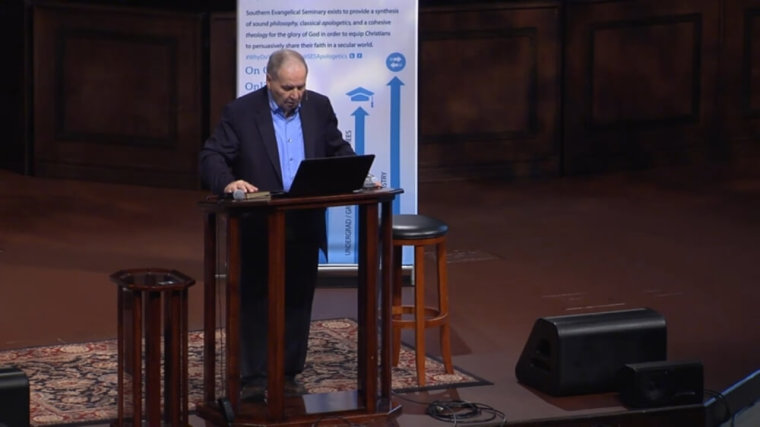 Christian theologian Norman Geisler said on Friday at a major Christian apologetics conference that America has paid a heavy price for abandoning God, such as rising rates of teen suicide, divorce, violent crime, and abortion, but urged Americans to rediscover their Christian roots and get back in God's favor.
Geisler focused his speech at the Southern Evangelical Seminary's 23rd annual National Conference on Christian Apologetics in Charlotte on three main topics — how America was founded on faith in God, how it lost that faith in the public sphere, and how it can regain God's favor.
Geisler, who is a prominent evangelical apologist, said "there is nothing that I am more concerned about today than what is happening in our country, and as a result happening elsewhere around the world."
Charting back America's history to 1620 with the first pilgrims on the Mayflower, he noted that the first thing the settlers did upon arrival was thank God in their prayers.
"I don't know if there's any other country that started that way, but that's how we started, they thanked God," he explained.
The theologian then noted that the first schools were started with a mission to teach children morals and protect them from Satan, whom the pilgrims believed has a real presence on Earth, while prayers in Congress called for Divine protection.
Geisler added that several of America's most important documents, such as the Declaration of Independence, the Constitution, and the Bill of Rights, were all inspired by Christian thought. What is more, the 10 Commandments were the basis of school and government, and taught people Judeo-Christian morals.
The apologist then pointed to the 1859 publication of The Origin of Species by Charles Darwin as the point when America started losing its favor with God, as the questioning of God also led to the questioning of God-given morals.
"We lost it by officially as a nation rejecting the Creator, the Creation, and God-given moral absolutes," he said.
He noted that by 1939, secular humanism had taken over, based on the idea that man is part of nature and emerged as a result of a continued process. What is more, evolution suggested that people derived their moral values from "human experience" rather than from God, which Geisler said "directly opposed our founding document."
As a result of the rise of secular humanism, atheist religions started receiving protections by the law; judges all the way to the Supreme Court were influenced by secularists, and the Bible was driven out of schools and many places in the public sphere.
Geisler further noted that not only were students no longer required to believe in the 10 Commandments, but the teaching of creationism was all together banned, and not allowed to be taught alongside evolution.
He asserted that the consequences of these choices were grave, and said: "From 1960 to 1990, teenage pregnancies went up 200 percent, divorce went up 200 percent, teen suicide went up 300 percent, violent crime went up 500 percent, abortion went up 1,000 percent, and child abuse rose to an all-time high."
Geisler added, "Does it make a difference, whether we teach people there is a Creator, creation, and God-given moral absolutes they should live by? You bet it does."
As for how America can get back its freedom and God's favor, he said that the nation needs to get back to the Mayflower principles of preaching the Gospel and changing people's lives.
"We have to get back on our knees. Never did we need prayer more than we need it now in America," he said.
Part of this mission would be getting prayer and the 10 Commandments back in school, the theologian argued, and said that Christians also need to vote in elections based on their principles.
"Pray, read, write, speak, train others, serve, vote," Geisler advised.
He concluded by noting that he hears a lot of Christians "cursing in the darkness" today, but said that it would be much better if they focused on lighting candles instead.