'This Must Be What Hell's Going to Be': 31 Dead, Hundreds Missing in California Fires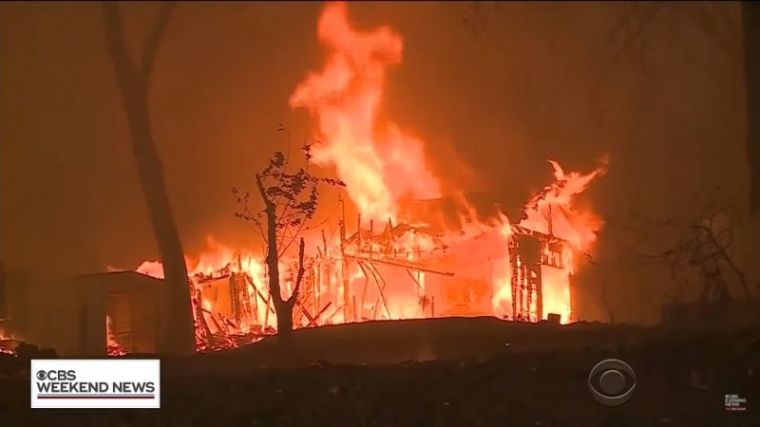 At least 31 people are dead and hundreds are missing as entire towns and thousands of homes burn up in the wildfires raging in California.
The death toll reached 31 on Sunday, now making it the deadliest fire in the state's history. Many of the fatalities have been people killed in their cars, officials said. Another 250,000 have been displaced.
The Camp Fire, which began on Thursday, has destroyed 6,700 structures, most of them homes, including nearly the entire town of Paradise in Northern California. At least 200 people are missing, with officials fearing that the death toll is set to rise as more bodies are discovered.
"We are doing everything we possibly can to identify those remains and make contact with the next of kin so we can return the remains to the family," Butte County Sheriff Kory Honea said.
Christian chaplains with the Billy Graham Rapid Response Team have been deployed near Sacramento, looking to comfort the suffering through their loss, trauma and fear.
"The chaplains are there to try to help people get through just the next hour of their life," said Al New, the Rapid Response Team's manager of emergency response and logistics.
"We are definitely praying for the first responders, the firefighters, and that some way, somehow, the weather would change and we'd get a lot of rain.
"And we're praying for the residents of those areas who are facing the fear of the unknown, the fear of the loss of friends and family and homes. It's a very strenuous time, emotionally."
People have been sharing incredible tales of survival, including residents of Paradise who managed to get out just as the Camp Fire began decimating their town.
"I thought, this must be what Hell's going to be," 87-year-old Beverly Fillmore told The Mercury News about driving out with her 91-year-old husband, Jim. 
"We were going to be cremated when we die, but I thought, this is it, I'm going to be cremated right now. This is when I die." 
The California Department of Forestry and Fire Protection said that in total there are six wildfires still blazing through the state, including in Southern California. The Camp Fire is the largest one, having destroyed nearly 109,000 acres in Butte County, north of the capital city of Sacramento, and is only 25 percent contained.
The fires were ignited last week after forecasters warned that the warm weather and a lack of rainfall had left vegetation very dry, with winds allowing the blazes to spread quickly.
President Donald Trump said poor forest management contributed to the fires, but California Governor Jerry Brown argued that that's not the main source of the problem.
"Managing all the forests ... everywhere we can does not stop climate change," Brown said, according to Fox News. "And those who deny that are definitely contributing to the tragedies that we're now witnessing, and will continue to witness in the coming years."
RRT Chaplains have, meanwhile, also been ministering to the residents of Thousand Oaks in California, where a gunman killed 12 people on Wednesday night.
"With multiple tragedies in a short span of time and all in the same state, chaplains are asking for continued prayers as they seek to bring the kind of peace and hope only Christ can offer in times like this," the evangelistic association asked.