Floods, Droughts, Fires, Poverty: Christians Respond to UN Global Warming Report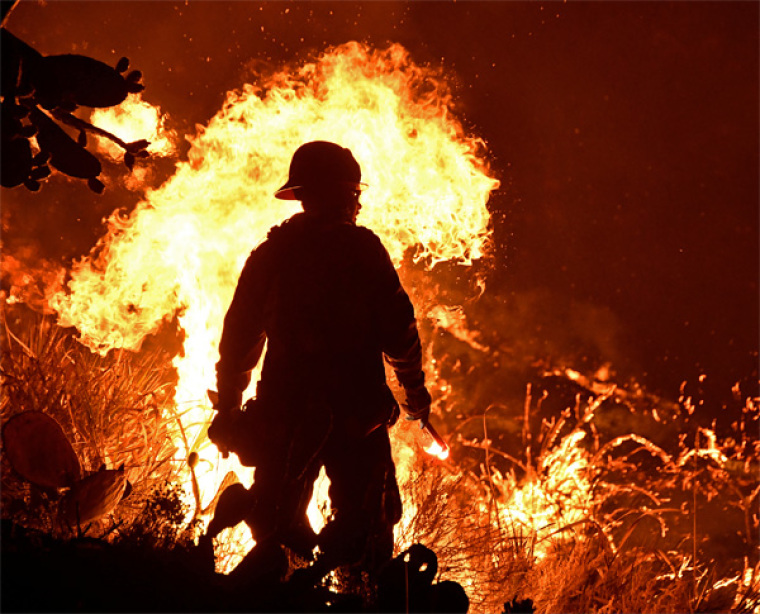 Some Christian relief groups have joined the call for urgent climate change action before the planet reaches a crucial threshold of a 1.5 degrees Celsius rise by 2030, while others argue that reduce use of fossil fuels would hurt those living in poverty.
The threshold, or 2.7 degrees Fahrenheit, was indicated in a report released on Monday by the United Nations Intergovernmental Panel on Climate Change.
The report warns that unless world governments take action and address rising global temperatures by 2030, the world will face heightened risk of extreme weather events such as heat waves, heavy rain, drought and associated wildfires, and coastal flooding.
The scientists also noted that limiting global warming to 1.5°C, compared to allowing it to reach 2°C, could help save several hundred million people from poverty by 2050.
The IPCC warned that limiting the temperature to 1.5ºC would require "rapid, far-reaching and unprecedented changes in all aspects of society."
"One of the key messages that comes out very strongly from this report is that we are already seeing the consequences of 1°C of global warming through more extreme weather, rising sea levels and diminishing Arctic sea ice, among other changes," said Panmao Zhai, Co-Chair of IPCC Working Group I.
Hans-Otto Pörtner, Co-Chair of IPCC Working Group II, added: "Every extra bit of warming matters, especially since warming of 1.5ºC or higher increases the risk associated with long-lasting or irreversible changes, such as the loss of some ecosystems."
Rt. Rev. Nicholas Holtam, the Church of England lead on the environment, said that the "risk level of climate change is now critical."
"The scientists are saying this is even more urgent than we realized and what they are saying to all of us but especially to our politicians is, we've got to get on with a really fundamental series of changes in order to keep the climate in such a way [that] it's just for all people," Nicholas told Premier.
He called on the U.K. government to aim for a target of net zero emissions by 2050.
"The ways in which we can make the biggest difference are in the way we travel, the way we eat, less meat, more plant, vegetables, beans and so on, and that makes quite a big difference," the Bishop of Salisbury urged.
Ruth Valerio, Global Advocacy and Influencing Director for Christian relief group Tearfund, emphasized the major threats facing humanity unless rising temperatures can be contained at 1.5 degrees.
"If this doesn't happen the world's poorest communities — those Tearfund serves — face more floods, more droughts and worse harvests," Valerio positioned.
"It'll take urgent action from governments, businesses and ordinary people — right now, then over the next five years, and beyond. This is the challenge of our generation. And who better to take a lead than the church?"
Christian Aid also called on urged action, noting that IPCC scientists came up with their report after synthesizing over 6,000 scientific studies.
"A failure to act can lead to irreversible impacts and even to tipping points that can lead to global warming spiraling out of control. The challenge is now for world leaders and policymakers to keep fossil fuels in the ground, invest in renewables, and in resilience measures to keep their people safe from existing climate risks," said Kat Kramer, Christian Aid's Global Climate Lead.
"They need to be ready to respond to this scientific report with ambitious pledges to act, backed by real plans of action. Individuals too can play an important role in their lifestyle choices, such as eating less meat and dairy, and consuming less energy. We all share this one fragile planet together and so need to act in solidarity with the poorest and most vulnerable, those who will be impacted the most if we fail to act."
Others, however, including Roy Spencer, climatologist, author, and former NASA scientist, warned that a massive cutback on greenhouse gas emissions would actually cause much more human suffering than the extra 0.5°C warming that the IPCC claims would be averted, however.
"There have been no observed increases in global storminess, droughts, heat waves, wildfires, floods, or hurricanes. Instead, more CO2 in the atmosphere has led to a 'global greening' phenomenon, and has helped increase agricultural productivity worldwide. In the U.S. alone, corn and soybeans are experiencing their fourth consecutive year of record crop yields," Spencer told The Christian Post in an email on Wednesday.
"The new IPCC report even admits such an effort would be extremely expensive, since they recognize that humanity, for the time being, necessarily depends upon fossil fuels," he continued.
"Trillions of dollars a year, and a $240 per gallon gas taxes are obviously going to hurt the poor, and poverty is the leading cause of death in the world. It is well known that cold weather kills 10-15 times as many people as hot weather does, so their claims of reductions in heat related deaths do not take into account the positive effects warming has on cold-related deaths."
Spencer, a principal research scientist for the University of Alabama in Huntsville, who was formally a senior scientist for climate studies at NASA's Marshall Space Flight Center, argued that IPCC's predictions of future warming "continue to be overstated by a factor of about 2, based upon recent studies of how much the atmosphere and oceans have warmed."
"The report is riddled with unsupported fear-mongering," he positioned.
Bjorn Lomborg, president of the Copenhagen Consensus Center and visiting professor at Copenhagen Business School, made a similar point in a Tuesday Wall Street Journal op-ed. 
"The IPCC report significantly underestimates the costs of getting to zero emissions. Fossil fuels provide cheap, efficient power, whereas green energy remains mostly uncompetitive. Switching to more expensive, less efficient technology slows development. In poor nations that means fewer people lifted out of poverty. In rich ones it means the most vulnerable are hit by higher energy bills," he wrote.