This week in Christian history: Notre Dame fire, Polish bishop martyred, NRB founded
Notre Dame Cathedral fire – April 15, 2019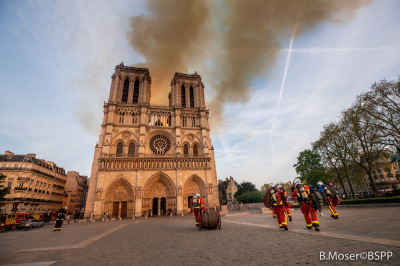 This week marks the anniversary of when the Notre-Dame Cathedral, the iconic Paris church that was completed in the Medieval era, was heavily damaged by an accidental fire.
The fire occurred while the church building was undergoing renovations, with photos and videos of the fast-moving blaze being widely shared on social media, to the horror of many.
"Notre Dame of Paris in flames. Emotion for a whole nation. Thoughts for all Catholics and for all French. Like all our countrymen, I'm sad tonight to see this part of us burn," stated French President Emmanuel Macron on Twitter at the time.
Soon after the fire was extinguished, wealthy Europeans announced their intentions to donate hundreds of millions of dollars to restore the structure.
Efforts to rebuild the cathedral remain underway, according to an update published in February by the group Friends of Notre-Dame de Paris.
"Over the next few months, the Établissement Public, the public agency in charge of managing the restoration, will issue calls for tender to source companies with expertise in the restoration of historical monuments to participate in the restoration," they said.
"In the spring of 2021, 1,000 oak trees were selected and harvested. These trees will become the cathedral's new spire and transept roof. From September 2021 through January, 45 sawmills across France processed the trees into timbers. Little by little, each oak is stripped of its bark and cut into 36 cm sections for planking."