Tim Keller, 50 Other Leaders to Discuss Future of Evangelical Identity at Invite-Only Meeting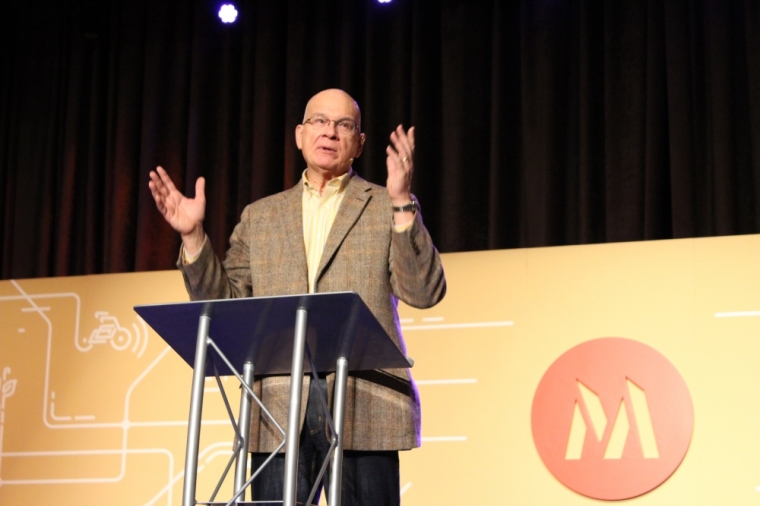 Dozens of leaders from prominant evangelical seminaries, churches and organizations will meet next Monday and Tuesday at Wheaton College in Illinois to discuss the future of evangelicalism in light of the Donald Trump presidency.
"It is an attempt to try and show how we should be thinking in such a way that our theology is what is the central concern versus our political commitments," Darrell Bock, executive director of cultural engagement at Dallas Theological Seminary and one of the organizers of the invite-only meeting, told The Christian Post.
Around 50 evangelical scholars, pastors and activists will attend next week's meeting. As first reported by The Washington Post, attendees will reportedly include prominent figures like bestselling author and pastor Tim Keller and New York City megachurch pastor A.R. Bernard.
The meeting will also include a number of center-left Christian leaders and those who have publicly expressed displeasure with President Trump.
Among those reportedly scheduled to participate are Fuller Seminary President Mark Labberton, former Wesleyan Church General Superintendent Jo Anne Lyon, North Carolina Bishop Claude Alexander, Wheaton College's Ed Stetzer, Harold Smith of Christianity Today, World Relief's Jenny Yang and Gabriel Salguero of the National Latino Evangelical Coalition.
Bock said those attending will be "mostly national leaders," and that there will also be at least one leader representing every continent in the world. 
The meeting comes at a time in which some feel the public perception of the term "evangelical" has become distorted and has taken on more of a political meaning rather than its theological one.
According to the National Association of Evangelicals, the term "evangelical" classifies all Christians regardless of political beliefs who believe in four basic truths:
The Bible is the highest authority for what I believe.
It is very important for me personally to encourage non-Christians to trust Jesus Christ as their Savior.
Jesus Christ's death on the cross is the only sacrifice that could remove the penalty of my sin.
Only those who trust in Jesus Christ alone as their Savior receive God's free gift of eternal salvation.
With there having been massive amounts of media attention in the last two years on Trump's support from white evangelicals and the engagement of white evangelical leaders with the administration, some are concerned that those who don't know the theological definition of the term may generally think of evangelicals as being pro-Trump Christians.
While next week's discussion will try not to focus on Trump and politics, organizer Doug Birdsall, honorary chair of the Lausanne movement of evangelicals, told The Washington Post that Trump will be the "elephant in the room."
"When you Google evangelicals, you get Trump," Birdsall was quoted as saying. "When people say what does it mean to be an evangelical, people don't say evangelism or the Gospel. There's a grotesque caricature of what it means to be an evangelical."
Bock said that while there is a schedule with certain presenters, the meeting will largely "proceed as a conversation."
"We have some people who are going to be doing some presentations about how they see the current situation and we are going to talk about it. It is literally designed to be a time to get together and have a group conversation," he said. "The concern is with the church expressing itself clearly about its theological commitment and its theological character in the midst of the environment we are in."
"Part of the point of the meeting is to have a conversation to see where we are and if there is agreement on how to proceed," he explained. 
Bock stated that there would most likely be some discussion about the group of conservative evangelical leaders who have acted as informal advisers to the Trump administration and those who have closely aligned themselves as Trump supporters.
"That's part of what we are going to be talking about," Bock said. "On the one hand, I think there are people who understand why they have done it. But there are questions about whether they have done it in the best way possible."
Many conservative evangelicals have stated that they backed Trump in the 2016 election because of his vows to advance pro-life measures, protect religious liberty and appoint conservative pro-life justices and judges. 
When asked if any of the evangelical leaders who have advised the administration were invited to the discussion next week, Bock simply said that they are "not involved in our discussions yet."
CP also asked Birdsall if any of the evangelical leaders with informal advisory roles in the administration had been invited.
Birdsall said he didn't really know who those evangelical leaders were except for Jerry Falwell Jr., Franklin Graham, Paula White and Robert Jeffress.
"I have been in touch with two of their offices with a desire to engage in a meaningful conversation," he claimed, adding, "I don't think they are globally perceived as evangelical thought leaders by virtue of what they have written or by virtue of the values that are reflected in their public statements."
"Those who have been invited have been invited by virtue of their individual and institutional leadership influence. The group that did the inviting was made up of leaders of organizations in our country that are known and trusted around the world as pillars of evangelicalism," he added.  
"They are pastors, scholars, leaders of organizations, and writers. These are people who work from a solid theological foundation that informs our activity in every sphere of society. They are leaders who represent a broad political spectrum, but whose primary concern is the work of the Kingdom of God ... that transcends politics. Matters of truth, justice, compassion and fidelity to the life and teachings of Jesus are central."
Influential evangelical leaders included in Trump's original group of evangelical advisers are George Wood, who led the Assemblies of God denomination in the U.S. for more than a decade and still leads the global organization, as well as past presidents of the Southern Baptist Convention like Ronnie Floyd and Jack Graham.
Another informal adviser is Samuel Rodriguez, president of the National Hispanic Christian Leadership Conference, who has been profiled in the New York Times and the Wall Street Journal this year as an advocate for immigrants and has not been afraid to speak out against the administration over immigration concerns. 
"His name was mentioned, but there was no mention of his affiliation with the president's council of evangelical advisers," Birdsall said of Rodriguez. "Other Hispanic leaders were discussing who should be invited. That particular affiliation was not material to the discussion as to whether or not he should be invited."
Birdsall also told CP that the vision of the conference is to "center evangelicalism within the Gospel" and "provide an alternative vision of what the Christian faith is all about."
Some of the scheduled attendees listed in The Washington Post article have either stated their opposition to Trump or his administration's policies. 
Alexander, who will co-chair the discussion, and Lyon signed onto a declaration that was also signed by a number of left-leaning Christian leaders during the 2016 campaign that expressed strong opposition to Trump. 
The declaration states that "racial bigotry has been a cornerstone of [the Trump] campaign." The declaration was also signed by liberal Christians such as activist Shane Claiborne, blogger Rachel Held Evans and civil rights activist William Barber.
Last August, Labberton echoed an argument that "President Trump and some evangelicals found one another by mutual resonance with toxic white supremacy."
Labberton was also editor of the recent book Still Evangelical? Insiders Reconsider Political, Social, and Theological Meaning that included essays from evangelical figures as far left as Claiborne and as far right as Focus on the Family President Jim Daly. 
Bernard, who pastors one of New York City's largest churches, announced last year in the wake of Trump's response to the Charlottesville, Virginia, white nationalist rally that he had to step down from the Trump evangelical advisory council over a "deepening conflict in values between myself and the administration."
Bernard would later tell CNN the evangelical advisory council is nothing but a "photo op" for Trump and the administration.
The Washington Post reported that next week's conference has been in the works for several months and was even discussed at famed evangelist Billy Graham's funeral last month. The legendary evangelist is the father of Franklin Graham. 
One skeptical evangelical leader who requested not to be named mentioned that it seemed a bit "profane" that — according to The Washington Post — the organizers "chose the sidelines of the sacred and unifying occasion of Billy Graham's funeral to plan a potentially divisive meeting like this one."