Tim Tebow Gifts Christian Fan With Cake, She Calls Him 'Hero Of My Faith'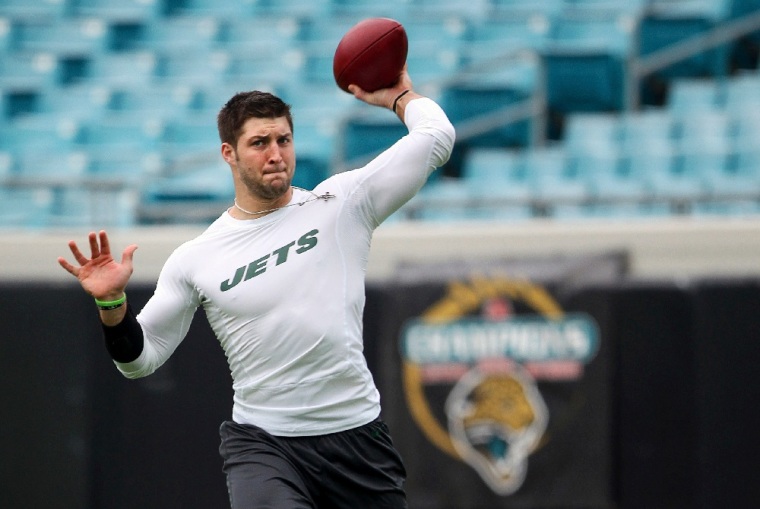 Tim Tebow recently brought a fan a piece of cake during one of his SEC Network segments, and now that fan is speaking about how the Christian athlete's actions are inspiring her faith in Jesus Christ.
Mckenzie Hoskins waited for over 24 hours to meet Tebow, who traveled to her native Tennessee where his SEC Network show visited Knoxville for a recent University of Tennessee football game. There, Hoskins was given a piece of cake from Tebow who also autographed the sign she created for him.
While she has opted to freeze the cake instead of eat it, Hoskins let it be known that Tebow's Christian faith made the dessert more meaningful for her.
"Honestly, he could have brought me a piece of grass (or) a cotton ball and I would have reacted the exact same way. It did not matter what he could have brought me," Hoskins told WJHL. "I was so overjoyed that I was meeting my hero, [the] hero of my faith. He stands for everything I believe in: Jesus Christ and the stance he takes for Him."
The 27-year-old evangelical Christian football star turned SEC college football analyst, has continued to give to others with his Tim Tebow Foundation. The foundation builds playrooms in children's hospitals all over the world, grants sick children's wishes and works to aid in the process of adoption.
Instead of his sports career, Tebow wants people to focus on the humanitarian legacy he is working to build.
"I hope that when I'm 90 years old, I've accomplished a legacy that isn't all about me. I hope it's a legacy about the people who our foundation helps," Tebow told People. "We're about to open a hospital in the Philippines. We'll have this hospital where we can help kids who are hurting; healing them physically but encouraging them emotionally and spiritually as well."
"We can make a difference in their lives," he added.