Tim Tebow Inspires During New 'GMA' Segment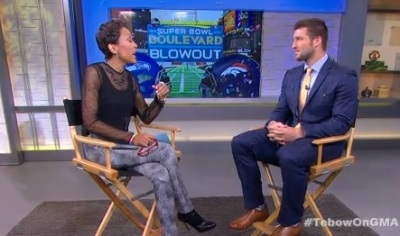 Tim Tebow officially reported for duty for his first day as "Good Morning America" anchor in the segment "Motivate Me Monday."
Tebow, 27, may no longer be a quarterback in the NFL, but that does not stop him from working. The Christian athlete appeared in the new "Motivate Me Monday" segment where he shared an inspirational story with the ABC audience that tuned in at the start of the work week.
The athlete seemed overjoyed to be able to take on the job where he was welcomed on set by the likes of ABC anchors George Stephanopoulos and Robin Roberts.
"I'm excited about it because it's part of me and it's part of my heart," Tebow said when officially beginning his duties on the show Monday. "It's something I've done for a long time and now to be able to do it with you and share these amazing stories about kids that have so much courage, and have overcome so many obstacles—and that's what's really inspiring—and it's awesome for me to be able to share these stories."
Tebow's first story featured DeVen Jackson, a 10-year-old Pennsylvania boy who pursued playing football despite having both legs amputated after battling meningitis.
While Tebow documented his experience visiting the boy and told his story on GMA, he also took to Instagram to speak about how he was personally touched by the story.
"Deven Jackson is unstoppable and an inspiration," Tebow wrote on Instagram. "YOU motivate me, Deven. #MotivateMeMonday."
Although Roberts said Tebow will appear on the show most Mondays, he is still active with other duties like being a college football analyst and running his Tim Tebow foundation.
The footballer went on to explain the importance of his foundation and the work that it allows him to do.
"Other than my faith and family, my foundation is the most important thing in my life," Tebow told People. "It allows me to keep so many things in perspective, and it gives me the opportunity to bring people together to invest in the lives of children all around the world."
After surprising fans with a comical T-Mobile commercial earlier this year where the football player spoke about all of the things he is free to do without a contract, he took over the cell phone company's Twitter handle to answer fans' questions last February. There, the Evangelical Christian also took the opportunity to share his faith with others.
"If you could have one super power what would it be and why," one person questioned.
Tebow responded, "The gift to help heal others."