Tim Tebow, Jana Duggar Not Dating, 'Have Never Met' Rep Says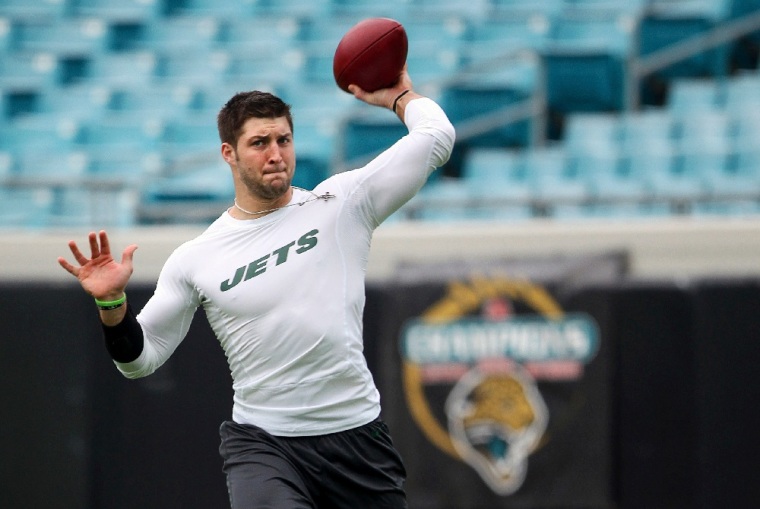 While rumors surrounding Tim Tebow and Jana Duggar continue to circulate, his publicist has made certain that there's no confusion — the two Christian celebrities are not dating.
Tebow, 27, a former football star and now an SEC college football analyst, was believed to have been dating the Duggar daughter, 24. Rumors began circulating that the two were being pushed together by her father, Jim Bob, and even Tebow's mother, Pam. The rumors only grew in intensity when a photo of Pam, Jim Bob and his wife, Michelle, was posted online by the Duggar patriarch.
Fans of both were hopeful that the young evangelical Christians would get together, forming perhaps one of the most famous super-couples. Yet Tebow's publicist released a statement quashing all of those dreams and revealing that the two had no connection.
"Tim and Jana Duggar have never even met," his rep told Us Weekly.
Jim Bob has also said that he doesn't interfere with his children's relationships, but prays for God's guidance for them.
"I do not choose who my children marry. … Over the years, I have suggested guys to my daughters or we have had a lot of guys that approach us and are interested in this girl or that girl, but each of our girls have chosen their spouse on their own," he told People.
And for the moment, both Tebow and Jana are busy with their independent lifestyles. Tebow is busy with his new job at ESPN, while Jana helps her parents run the household. Most recently, she has been involved with her two sisters' weddings and will likely be a support for sister, Jill, when she gives birth to her first child in the spring.
For his part, Tebow has spoken about what he's looking for in a wife.
"It really needs to be about who they are on the inside," he previously told People. "I've always been attracted to girls whose hearts are the biggest thing about them. People can be very sweet and kind to others who can do a lot for them. I want to find a girl who will be the same person to those who can't do anything for her in return."