Tim Tebow on Coping With Negative Thoughts: 'Nobody Wants Me'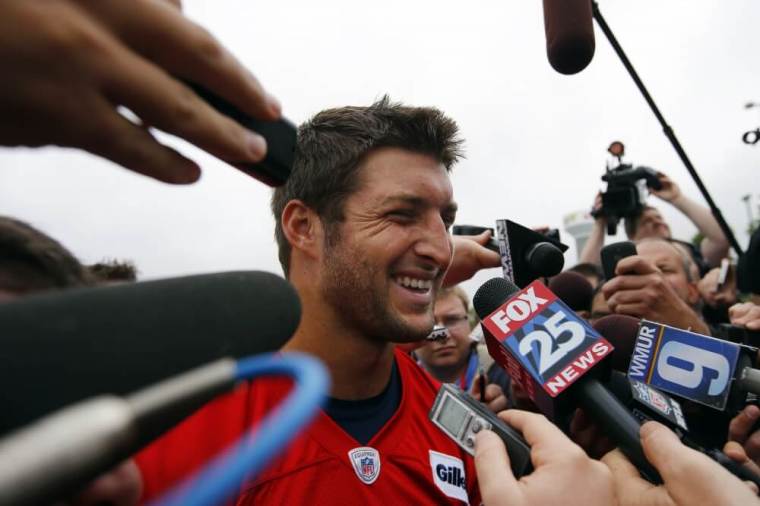 Tim Tebow's smile might be just as recognizable as his name, but that doesn't mean the football player-turned-motivational speaker is immune to negative thoughts and feelings.
In a Rolling Stone interview, the Heisman trophy winning University of Florida football champion spoke about dealing with those trials at different points in life.
"Whether you're sitting on the edge of the bed and you're thinking 'there're 32 [NFL] teams and nobody wants me' or 'no one wants me to do what I want to do.' Or you get another opportunity, and you don't make it," Tebow revealed. "I've been cut four times. Well only three, but traded once, so it kind of counts as four."
Tebow, who is gearing up to release his second book, Shaken: Discovering Your True Identity in the Midst of Life's Storms in October, believes his struggles have all taken place for a good reason.
"Being able to be popular and have the run in Denver and everything in Florida, I am thankful for the platform. But I'm also grateful, not always, but a lot more now, for the lows," he said. "Because people can understand that even more. They can understand what you're going through and relate to it and hopefully that can be an encouragement to anyone who reads it."
Tebow said he hopes being transparent about the battle with his negative thoughts can encourage others.
"Part of when you really get to encourage people is you also get to do that through your weaknesses and shortcomings. Because not everybody can relate to my highs, but there're a lot of people that can relate to my lows," he said. "Whether that's being told you're not good enough, or you can't do what you wanna do. I think it's important to be able to share through vulnerability and through the highs and the lows, but I think people can relate a lot more to the lows."
The description of Tebow's book, Shaken: Discovering Your True Identity in the Midst of Life's Storms, walks readers through his rise to fame and the struggles he's faced with the NFL.
"First, he was a beloved college football champion, media sensation, and best-selling author drafted in the first round of the 2010 Draft. Then he had a miracle playoff run with the Denver Broncos before being traded to the New York Jets. After one season he was cut by New York, next signed by the New England Patriots, then let go after training camp. Tim Tebow has achieved big victories and plunged the depths of failure, all while holding firm to his faith.
"In Shaken he explains why neither the highs nor the lows of his life can define him — and he reveals how you, too, can find an unshakable identity and purpose," according to the description. "In revealing passages, Tebow pulls back the curtain on his life, sharing the vulnerable moments of his career that have shaken him to his core — while also teaching the biblical principles that will enable you to keep the faith, no matter what comes your way."