Tim Tebow Says Doctors Told His Mom He Was a 'Tumor' to Be Removed, Not a Baby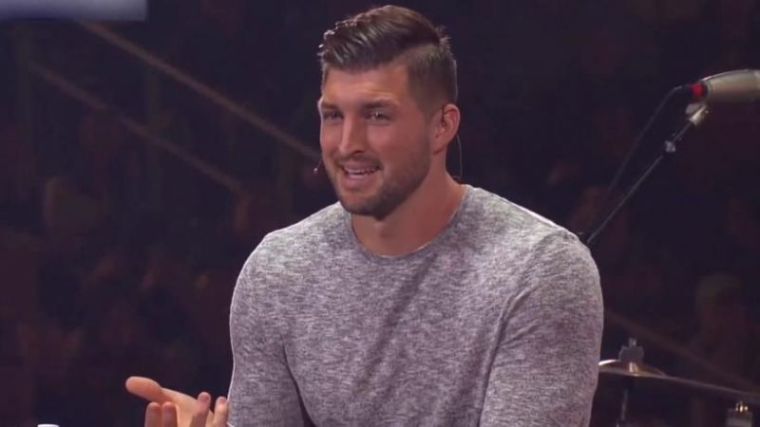 Tim Tebow says when his mother was pregnant with him, doctors tried to convince her that she wasn't going to have a baby, but had a tumor that needed to be removed. 
During the Passion Conference in Atlanta, Georgia, last week, Tebow shared his testimony with Pastor Louie Giglio who asked the famous Christian athlete: "What made you into the person you are?"
"I was born in the Philippines to missionary parents and I have a special birth story," Tebow shared at the annual college student conference. "The doctors said that I wasn't even a baby; they said I was a tumor."
He joked that his siblings have never allowed him to live it down and gave him the nicknamed "Timmy the Tumor" after he was born.
Although the doctors encouraged Tebow's mom to surgically remove the "tumor," his parents' Christian faith would not allow them to go through with it. Instead, they trusted God.
"There was a lot of craziness with my entire ... with my mom's pregnancy with me," he continued. "She decided to trust God and not what the doctors were saying."
The young athlete says his life is a miracle because even after his birth there were complications.
"And then I was born, and it was a miracle — the placenta wasn't attached throughout the entire pregnancy. I was malnourished, but I made up for it pretty quickly," he added.
He then publicly thanked his parents for being such faith-filled people who can be great role models and influencers.
His mother is gearing up to speak at the 45th annual March for Life in Washington, D.C. later this month. Both Tebow and his mother once appeared together in a 2010 pro-life Super Bowl ad.
On Jan. 5, Tebow kicked off the New Year by hosting a "Giving Gala," to raise money for his "Night to Shine" foundation. Night to Shine is sponsored by the Tim Tebow Foundation and aims to help people with special needs, ages 14 and older, experience prom.
The event will take place on Feb. 9, and more than 500 churches from around the world will create prom nights of their very own.
According to the Tim Tebow Foundation, an estimated 90,000 guests attend "Night to Shine" events in more than eight countries, and 175,000 volunteers helped out.