Tim Tebow Surprises People by Paying Their Layaway Bills for Christmas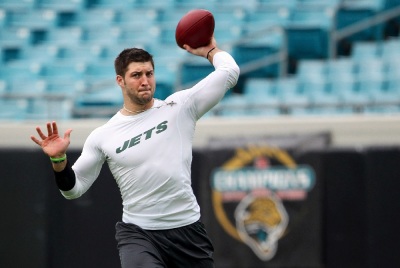 Tim Tebow is surprising shoppers by paying off their layaway accounts, while letting the world witness the deed for a segment airing this week on "Good Morning America."
Tebow, 27, may no longer be a quarterback in the NFL, but that does not stop him from working. The Christian athlete has been appearing in the ABC morning show "Good Morning America," where he works on the segment "Motivate Me Monday" to share inspirational stories at the start of each work week.
The NFL player turned ESPN football analyst will travel the country to pay off people's layaway accounts, and began by doing so in an Orlando, Florida, Walmart for a woman named Jasmine Nunes. Tebow paid Nunes' $220.02 layaway balance, which included Christmas gifts for her nieces and nephew during hard financial times for her family.
The woman was shocked that Tebow showed up in-person to pay her bill and called her mother in excitement.
"Mom, you're never going to believe what just happened," she said. "Tim Tebow just paid my layaway!"
Tebow paid a $701 layaway balance for Damara Jarrett in the same Orlando Walmart. Jarrett expressed her gratitude as a full-time student who got into a recent car accident and had items put away for her two children.
"You don't understand how hard I've been working," Jarrett told Tebow after being surprised with her cleared layaway bill. "And then I said I was going to take stuff off because I can't afford everything, and then this. ... Just thank you. I just want to cry."
When it was first announced that he would appear on "Motivate Me Monday," the athlete seemed overjoyed to be able to take on the job where he was welcomed on set by the likes of ABC anchors George Stephanopoulos and Robin Roberts.
"I'm excited about it because it's part of me and it's part of my heart," Tebow said when officially beginning his duties on the show last September. "It's something I've done for a long time and now to be able to do it with you and share these amazing stories about kids that have so much courage, and have overcome so many obstacles — and that's what's really inspiring — and it's awesome for me to be able to share these stories."