Tim Tebow's 'Miracle' Birth Becomes a Joke on Season 3 of 'Orange Is the New Black'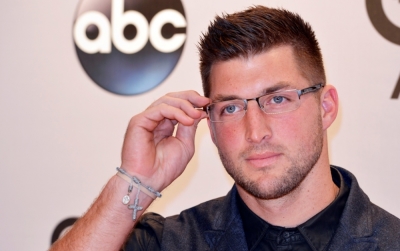 Although the NFL season hasn't officially started, Tim Tebow, the 27-year-old Christian Philadelphia Eagles quarterback, has already become a topic of conversation on the popular Netflix original show "Orange is ihe New Black."
In the June 12 season three premiere of the show, one of the prison inmates, named Pennsatucky, speaks about having a miracle baby whom she compares to the football star.
"I would have five [children], or six, if you count the one that fell out after the night in the cave," Pennsatucky said in the show. "Would have been a miracle baby, like Tim Tebow."
The corrections officer working in the prison, Wanda Bell, said she doubted Pennsatucky's baby would be on the "star athlete track." This led Pennsatucky to make more comparisons between her child and Tebow.
"Oh yeah? Well neither was Tim Tebow," Pennsatucky said. "You know, when his momma was pregnant she had the sickness and the doctors told her not to have the baby but she had it anyhow? And she was on dysentery medicine, and she was in a Filipino town."
Eliqua Maxwell, another corrections officer, responded to Pennsatucky's comparison to Tebow by saying, "he wasn't such a great quarterback."
While the comedy-drama is fictional, the account of Tebow's life is true.
Pam Tebow, Tim's mother, was the keynote speaker at the Carolina Pregnancy Center fundraiser in 2012 where she recalled doctors advising her to abort her now 27-year-old son.
"Twenty-four years ago, a doctor told me that if I didn't have an abortion, I could die," said Pam. "But me and my husband trusted in God and went against the doctor. God spared the life of me and my son."
Pam Tebow referred to the birth of her son as one created by God.
"The story of our youngest son, Tim, is a God story," she said.