Timothy Keller Waxes Poetic About the 'Magic' and Pleasures of Sex in Marriage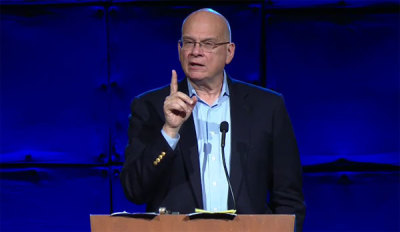 NYC megachurch pastor and influential author Timothy Keller was recently asked "why sex outside of marriage is so destructive" and in his response spoke personally about the intimacy he has enjoyed with his wife over the years.
"Sex inside of a committed marriage is magic," said Keller. "It's like blowing on the coals of this incredible beautiful and powerful flame. Sex outside of marriage is just a way of not giving yourself, but of receiving fulfillment and pleasure."
Keller, who shares three sons with his wife, Kathy Keller, gives his perspective on sex and marriage briefly in a video interview with spoken word artist and author Jefferson Bethke, who recently launched a new YouTube series called "Ask a Leader," featuring discussions with pastors, authors and musicians.
In Bethke's video interview, one of five discussions with the Redeemer Presbyterian Church founding pastor, Keller went on to give a personal example of the benefits of sex in marriage.
"Sex inside marriage, where you're not so much taking as giving...I can just say personally, after years and years of doing this with my wife, one woman, it becomes sweeter and more pleasurable and more powerful and more transforming as the years go by, even when actually neither of you look as good as you did before," he said.
Keller, 63, added, "A lot of things people think have to be there as part of sex just aren't there when you're in your 50s, 60s, 70s and 80s, and yet it's actually more powerful experience because you haven't devalued the currency.
"Sex is another way of saying to another person, 'I belong completely and exclusively and permanently to you,' and that's something you can only say inside marriage. And when you use sex to say that, it's incredibly valuable and rich."
Bethke published the video interview with Keller on Tuesday, Nov. 26, and shared his surprise that the video "would strike such a chord." He shared with his Facebook followers that "Why Is Sex Outside Of Marriage So Destructive?" with Keller had been viewed 21,000 times within 8 hours.
Watch the video below, or on YouTube:
Keller has written at least two books on sex and marriage that remain top sellers: The Meaning of Marriage: Facing the Complexities of Commitment with the Wisdom of God on which his wife worked as a collaborator, and Counterfeit Gods: The Empty Promises of Money, Sex, and Power, and the Only Hope that Matters, which remains a top seller.
The New York City pastor has also talked extensively on the subject of sex, including on whether there is a commandment in the Bible against premarital sex. Listen to the audio clip of Keller on the topic that was made available on his church website at Redeemer.com, or use the player below.