Top ISIS Leader Killed in Mosul by US Coalition Airstrike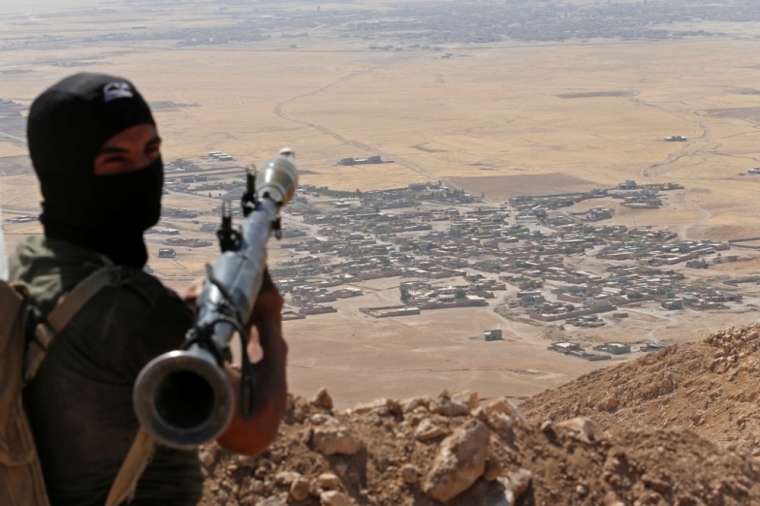 Radwan Taleb al-Hamdouni, the top ISIS leader in the terror group's Iraq stronghold of Mosul, has reportedly been killed by an airstrike, local sources said on Thursday.
Reuters reported that Mosul residents and a local medical source said that Hamdouni was killed in a car alongside his driver during an attack Wednesday afternoon by the U.S.-led coalition.
ISIS has captured a number of cities across Iraq and Syria, forcing hundreds of thousands to flee their homes. It has committed a number of atrocities, including numerous beheadings filmed on video, and has implemented Sharia law in towns it has captured.
Hamdouni, who had been given charge of Mosul, was buried by ISIS soldiers later on Wednesday. The terror group's supporters attended the funeral in large numbers, residents said, and carried black Islamic State flags.
Mosul has been the focus of Iraqi government and coalition efforts to strike back against ISIS and recapture the city.
The coalition has also been active in Syria, helping the border city of Kobane so far resist ISIS attempts to capture it.
ISIS meanwhile attacked a government complex in the provincial capital of Ramadi, officials said on Friday.
"Mosques are asking anyone who can carry weapons to confront the attackers," provincial council member Hathal Fahdawi said.
Gunfire has been reported from the rooftops of buildings, while security officers are trying to prevent the militants from taking government offices and police headquarters.
ISIS' spread throughout the region has also had dire consequences for Christians and other religious minorities, who are facing severe persecution in cities that have fallen under the terror group's control.
Fides News noted earlier this week that 23 Christian families are still trapped in the city of Raqqa in Syria, where Islamic militants are forcing them to pay a "protection tax" or leave their homes.
Thousands of Christians also fled Mosul in July, abandoning the community they had lived in for close to 2,000 years.
Now virtually emptied from Christians fleeing because of ISIS' actions, Mosul had hosted as many as 60,000 followers of Christ prior to 2003 and the U.S.-led operation into Iraq.
"In my opinion this is a very grave situation. No western leader is moving to stop such a tragedy but they offer only empty words with no actions," Munir S. Kakish, chairman of the Council of Local Evangelical Churches in the Holy Land, told The Christian Post at the time.