Tori Kelly Joins Lecrae on 'Good Morning America' With Powerful Christian Performance (Video)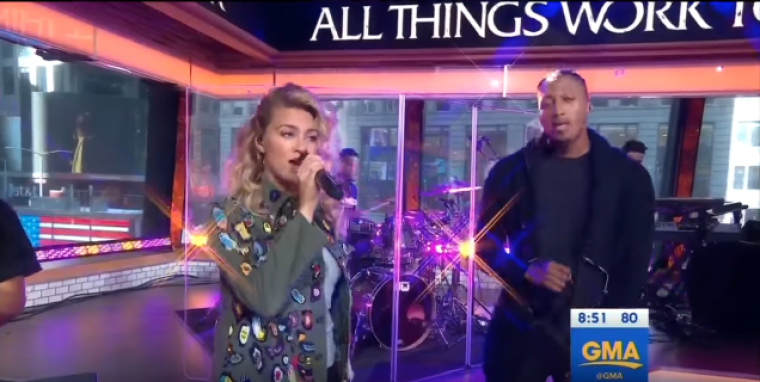 Grammy Award-winning hip-hop artist Lecrae teamed up with singer Tori Kelly for his song, "I'll Find You," and the two were invited by "Good Morning America" to perform the inspirational single on the popular mainstream platform.
Lecrae has been greatly embraced by mainstream entertainment for his hip-hop music with a Christian message throughout the years. Friday marked release day for Lecrae's new album, All Things Work Together, and the artist along with Kelly took to the GMA studio located in New York's Times Square to perform. During the duet they urged people to never give up "hope."
"I'll Find You" is the follow-up single to Lecrae's hit song "Blessings." The Texas native first posted a picture announcing the song title and the inspiration behind it in June. He disclosed then that they penned the record to help spread hope to those battling cancer.
"At the time of this song's composition, some of our loved ones were battling cancer. We wanted to encourage them to hold on and tell them we are here waiting, hoping, praying, and fighting with them. Some have been released from their pain forever, others are still fighting. Hold on," he said.
During the GMA performance, photos were displayed on monitors behind Kelly and Lecrae of cancer survivors and their stories.
"I'm hanging on by a thread/ And all I'm clinging to is prayers/ And every breath is like a battle/ I feel like I ain't come prepared/ And deaths knockin on the front door/ Pain's creeping thru the back/ Fear's crawling thru the windows/ Waiting for em to attack/ They say 'Don't get bitter get better'/ I'm workin on switchin them letters/ But tell God I'mma need a whole lotta hope keeping it together/ I'm smilin in everyone's face/ I'm crying whenever they leave the room/ They don't know the battle I face/ They don't understand what I'm going thru/ The world trynna play with my soul/ I'm just tryna find where to go/ I'm tryna remember the way/ I'm tryna get back to my home/ But I can't do this on my own/ That's why I'm just trusting in you/ Cause I don't [know] where else to go/ And I don't know what else to do," the Reach Records founder rapped.
See the full performance below: