Track Palin Divorce: Settlement Details Agreed With Britta Hanson for Custody of 1 Year Old Kyla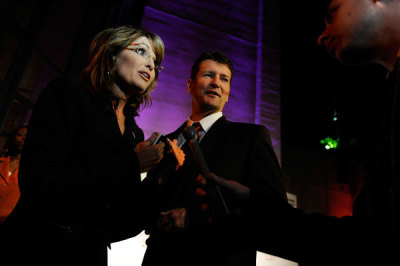 Track Palin has filed for divorce from his wife, Britta Palin, after just 18 months of marriage. The 23 year old eldest son of Sarah Palin has reportedly mutually agreed upon the split with Britta, despite the couple being less than two years married and also despite having a one year old daughter together.
Track and Britta were married just last year in May, with their one year old daughter, Kyla Grace Palin, born three months after the wedding ceremony.
The couple had been a couple for much longer than their 18 months marriage, however, and were high school sweethearts. Although their relationship is now said to be heading for an end.
After their marriage in May 2011, the families of both couples released a joint statement: "Our families couldn't be happier. These are two hard working, humble, active, studious young adults who grew up together. We're tickled that after two decades of friendship we proudly witnessed their marriage, knowing their new life together will be blessed."
However, that joy appears to have been short lived, and Track reportedly filed divorce papers on Dec. 1, still six months shy of what would have been their second wedding anniversary. It is believed that the couple will jointly petition for the divorce to go through.
According to numerous sources the couple have already discussed legal arrangements and a settlement surrounding custody of one year old Kyla.
Track is an Army Reservist, and has previously spent a year deployed in Iraq with a Ft. Wainwright Stryker Brigade. He is also a commercial fisherman, although it was previously reported that he had planned to study at the University of Alaska after the commercial fishing season ended.
Track is Sarah Palin's eldest son. The Palin family have four other children; Bristol, 22, Willow, 17, Piper, 11, Trig, 2.