Did Transgender Bathrooms Cost North Carolina's Gov. Pat McCrory His Reelection? 4 Views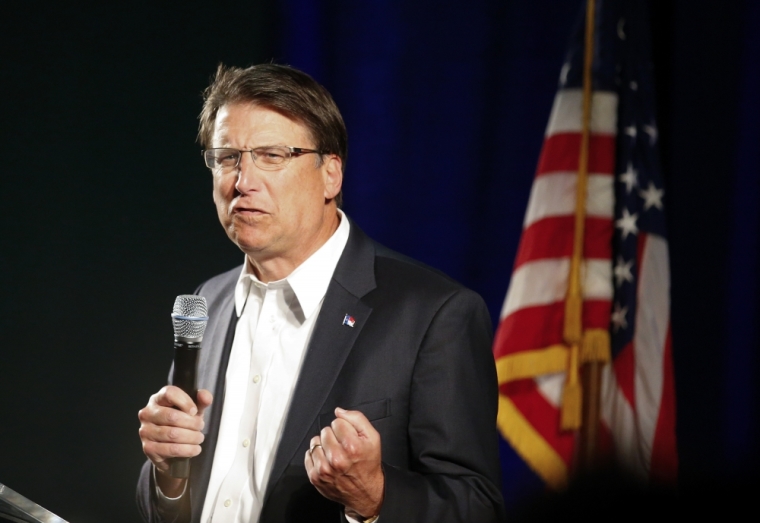 North Carolina Governor Pat McCrory narrowly lost his reelection bid this year, officially conceding the race earlier this week in response to a recount that showed him losing.
A socially conservative Republican, McCrory was closely associated with North Carolina's controversial HB 2 law, which among other things stated that no local ordinance could be created that allowed biological men to use women's bathrooms.
Some have speculated that McCrory lost reelection because of the law and the fallout therein, such as NCAA moving the Final Four to a location in response to the outcry from LGBT groups.
Below are four perspectives on the perceived impact of the hot-button social issue on the gubernatorial race in the Tar Heel State.
1. Kate Perelman
Kate Perelman of the liberal group Protect Thy Neighbor attributed McCrory's defeat to his close association with HB 2, known in some circles as the "bathroom bill."
To justify her argument, Perelman cited exit polls from ABC News and a report from the pro-LGBT groups the Human Rights Campaign and Equality North Carolina.
"57 percent of North Carolina voters identified the law as the most important reason to oppose McCrory's re-election, and 62 percent of voters described the law as an important factor in their decision about who to vote for. A separate exit poll conducted by ABCNews on November 8 offers a similar result, showing that 66 percent of North Carolina voters opposed HB 2," wrote Perelman.
2. Jane Robbins
Jane Robbins of the conservative political publication The Pulse 2016 argued in a piece published last month before McCrory officially conceded that the claim that he suffered from being associated with HB 2 "isn't supported by the facts."
Robbins noted that despite the well-publicized boycotts of North Carolina, the economy of the state was still very much strong.
"Despite the propaganda, North Carolina's economy is humming along quite nicely. The state has welcomed dozens of new companies even since the privacy controversy erupted in the spring of 2016," wrote Robbins.
"In fact, other than PayPal, pretty much the only enterprises that have chosen to punish the state for exercising common sense are taxpayer-funded sports events, aging musicians, and leftist Hollywood types looking to make a political statement."
Robbins also pointed to the fact that Lt. Governor Dan Forest, an outspoken supporter of HB 2, won reelection with 52 percent of the vote.
"If anything, Forest was an even more vocal proponent of the privacy bill than McCrory was. If North Carolinians really oppose that policy, why did they return him to office?" asked Robbins.
3. Zack Ford
Zack Ford of the liberal online publication Think Progress penned a column earlier this week arguing that McCrory lost "for being anti-LGBT."
"McCrory adamantly stood by the law all year, doubling down on it during the gubernatorial debates in the weeks before the election. His polling mirrored opposition to the law," wrote Ford.
"After Hurricane Matthew passed through in early October, he got a small bump for his leadership through that crisis, but it immediately disappeared as he resumed defending HB2 and as more businesses abandoned plans to bring jobs and investments to North Carolina."
Ford went on to argue that "there really is no other explanation for McCrory's loss" than his support for the "bathroom bill."
"HB2 has defined North Carolina since its passage, with even some countries warning against LGBT people traveling there because of it," continued Ford.
"Those decrying identity politics can't simply make an exception for it; it blatantly contradicts their narrative."
4. American Principles Project
Frank Cannon, president of the conservative group the American Principles Project, released a statement earlier this week arguing that McCrory lost not because of HB 2 in of itself, but because of "corporate bullies and progressive lynch mobs" threatening the state's economic well-being.
"He was less than 10,000 votes away from withstanding an outright blitzkrieg of hate from corporate America, the sports-entertainment complex, and Hollywood celebrities," stated Cannon.
"This branding effort, which focused on the consequences of keeping HB2 amidst blackmail from corporate and entertainment elites, created a phenomenon where HB2 became toxic to a majority of voters, while voters still supported the substance of HB2."