Transgender Jesus Play to Run in São Paulo; Judge Tells Christians 'Just Don't Watch It'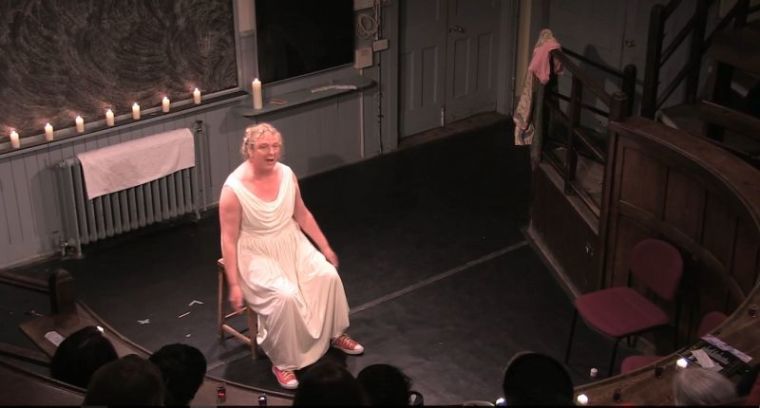 The São Paulo Court of Justice in Brazil decided last week that a controversial play depicting Jesus Christ as transgender will be allowed to take the stage, despite protests from some Christians.
"People might not agree with the content of the show," Judge J. L. Mônaco da Silva said in his decision.
"But that's not enough reason to knock on the doors of the court to ban its performance. Just don't watch it!" he insisted, according to Hyperallergic, a U.S.-based website reporting on arts and theatre news.
The court overturned an injunction that initially banned "The Gospel According to Jesus, Queen of Heaven," as the show is called, from running in the city, with Silva finding that the prohibition amounted to "cultural aggression" and censorship.
The play, originally written by Scottish playwright Jo Clifford, and adapted in Brazil by Argentinean-born director Natalio Mallo, has continued to tour the country despite protests.
Conservative Christians have asserted in petitions that "the performance of this horrific spectacle is equal to the persecution suffered by Christians in the first centuries when they were thrown to wild animals in the arenas of Rome as a form of entertainment."
The Associated Press reported last year that the play is just one of many examples of a cultural war "battleground" in Brazil, with LGBT activists and the country's growing evangelical population clashing on a variety of issues.
Mallo has argued that the show's message is about "forgiveness and acceptance," and that Jesus is presented as a trans woman in order shed light on the intolerance faced by transgender people.
Clifford has insisted that the play is not meant to attack believers.
"As a practicing Christian myself, I have no interest in attacking the Church or mocking the Church or make fun of the Church or in any way being blasphemous or offensive," the writer has claimed. "I simply want to assert very strongly, as strongly as I can, that Jesus of the Gospels would not in any way wish to attack or denigrate people like myself."
In the past, Christians have also protested against the U.K. version of the show, with a Scottish pastor noting in 2009 that no theatrical play would have the courage to use Islamic figures in such a way.
"If this play had treated the prophet Muhammed in the same way there would have been a strong reaction from the Islamic community, but that just wouldn't happen," Pastor Jack Bell of Zion Baptist Church in Glasgow said back then.
"You can't blaspheme God and use freedom of speech as an excuse for that," he added. "True biblical Christianity is becoming marginalized through political correctness."