Transgender Student Born Male Beats Girls at Track and Field Championship
Transgender Student Born Male Beats Girls at Track and Field Championship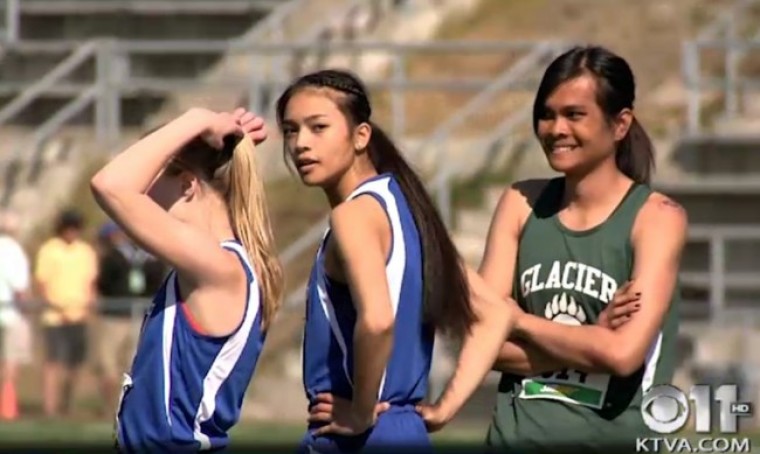 A transgender student in Alaska who was born a male qualified for the finals at a high school state championship last week against all female competition, sparking protest from some of the female students who questioned the fairness of the situation.
Breitbart News reported on Monday that 18-year-old Nattaphon "Ice" Wangyot, a senior at Haines High School in Alaska, competed at the state Track & Field meet in Anchorage, taking home third place in the 200-meter dash (27.3 seconds) and fifth in the 100 (13.36 seconds).
Several female athletes, however, pointed out that as a male-to-female transgender athlete, Wangyot had an unfair advantage.
Eagle River junior Peyton Young, who won the Class 4A girls 3,200-meter race, told the Alaska Dispatch News: "I don't know what's politically correct to say, but in my opinion your gender is what you're born with."
Young added: "It's the DNA. Genetically a guy has more muscle mass than a girl, and if he's racing against a girl, he may have an advantage."
Alaska Family Action, a conservative group that campaigns for traditional values, further argued that state officials are ignoring biological differences between the genders by allowing Wangyot to compete against female students.
"Allowing students to play on teams of the opposite sex disproportionately impacts female students who will lose spots on track, soccer and volleyball teams to male students who identify as female," said the group's President, Jim Minnery.
The same group has also started a petition against President Obama's directive in May demanding that schools allow students to use bathrooms that match their gender identity instead of their birth sex.
"We have a right and responsibility to protect our children, and the government has the duty to protect the safety, privacy, and dignity of all students in public schools," the group has said.
"Now, the Obama administration is denying parents that right and tying the hands of school officials by threatening to withhold federal funding for public schools that do not open up girls' locker rooms, restrooms, and showers to boys," it added.
"This lawless attack on schools and its threat to economically harm the state of Alaska is the latest attempt to coerce conformity with the Obama administration's political agenda."
On her part, Wangyot explained that things are not as easy as people think, and said that she faces difficulties.
"The people who are going to think, 'It's not fair to play with the boys' — well, you don't know that. It's not easy," Wangyot told the Chilkat Valley News. "It's not like I wake up and 'OK, I'm a girl right now.'"
Wangyot reportedly showers alone while a coach stands guard, uses a single-occupancy bathroom, and takes female hormones and other drugs to suppress testosterone levels.