Transgender Troop Delay Due to 'Disagreement on the Science,' General Tells Congress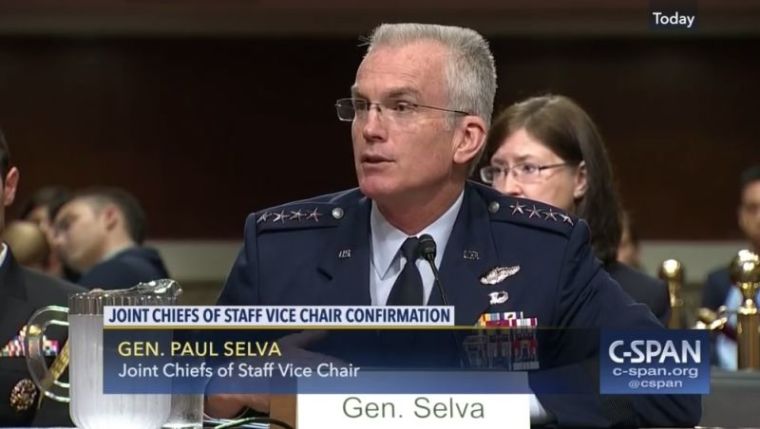 The delay in admitting transgender people into the military is due to scientific disagreements over the best treatments for gender dysphoria, a general testified to Congress.
Vice Chairman of the Joint Chiefs Gen. Paul Selva, the second-highest ranking military officer, testified before an Senate Armed Services Committee hearing on Tuesday and was asked by Sen. Kirsten Gillibrand, D-N.Y. if the six month delay to the deadline established by the Obama administration last year when it ended a ban on transgender troops will have "unintended consequences."
She also asked what Selva has learned so far as the military reviews the new transgender policy.
"Our decision to delay the accessions of transgender individuals into the services was largely based on a disagreement on the science of how mental health care and hormone therapy for transgender individuals would help solve their medical issues that are associated with gender dysphoria," Selva explained.
Selva added that there are a "host of other issues" that caused a need to push the deadline, which was originally established by former Defense Secretary Ash Carter, to Jan. 1, 2018.
He stated that there were questions regarding the "potential physical standards" and that the military leaders needed "additional time" to assess issues related to infrastructure and "training curricula for our basic trainees who come in in transgender status, particularly those who have not undergone transgender reassignment surgery."
"And while they present as their target gender they are physiologically still in their birth gender," Selva added. "Those issues will have to be dealt with before we can actually begin to access those individuals into active service."
Selva also assured that he is "an advocate of every qualified person who can meet the physical standards to serve in our uniformed services to be able to do so."
As part of the policy implemented last year, the military will have to pay for hormone therapy and gender reassignment procedures that are deemed by doctors to be medically necessary for transgender troops.
LGBT activists pushed back against Sevla's concern about the "disagreement on the science of how mental health care and hormone therapy for transgender individuals would help solve their medical issues."
"There is no scientific dispute. Rather, there is a global medical consensus, including the American Medical Association and the Rand Corporation, that transition-related care is reliable, safe and effective," Aaron Belkin, director of the Palm Center, said in a statement.
Although liberal activists like to claim that there is "global medical consensus," a report published last year by two Johns Hopkins University scholars stated that compared to the general population, "adults who have undergone sex-reassignment surgery continue to have a higher risk of experiencing poor mental health outcomes."
"One study found that, compared to controls, sex-reassigned individuals were about 5 times more likely to attempt suicide and about 19 times more likely to die by suicide," an executive summary for the 2016 report "Sexuality and Gender" published by The New Atlantis, states.
Defending the report from partisan critics, author Lawrence Mayer, a professor of statistics and biostatistics at Arizona State University and a scholar at Johns Hopkins University's psychiatry department, told The Christian Post that the only bias in the report "is just towards science."
The deadline pushed back by the Pentagon last month only allows armed services to put off accepting new transgender recruits. Since Carter ended the ban on transgender service members last year, transgender troops already enlisted in the services have been able to begin the process of getting their gender markers changed on their military identifications and serve openly.
Last week, the United States House of Representatives, including two dozen Republican lawmakers, voted against and defeated an amendment to the National Defense Authorization Act that would have banned military dollars from being used to fund therapy and procedures associated with gender reassignment. The ban would not have barred funding for mental health services associated with gender dysphoria.
"If Congress won't act to protect our troops and taxpayers, the White House must," Family Research Council President Tony Perkins said. "The American people rejected the Obama agenda in November. So why are we still letting it dictate our military policy?"