Trayvon Martin's Parents Visit Congress in Fight Over Death of Teen (Video)
Trayvon Martin's parents visited Congress Tuesday for a forum on hate crimes and racial profiling in Washington, D.C.
Rep. Frederica Wilson (D-Fla.) organized the briefing in response to the February death of 17-year-old Trayvon Martin.
"As I've said before and I'll say it again: Trayvon was our son, but Trayvon is your son," the late teen's mother, Sybrina Fulton, told Congress. "A lot of people can relate to the situation and it breaks their heart just like it breaks mine."
Trayvon's father, Tracy Martin, also spoke at the briefing thanking Congress and the public for their support in the case.
"I would like to say thank you to everyone who's supportive of our family, everyone whose helped us stand tall in this matter, everyone who's holding the legacy of Trayvon and making sure he did not die in vain," Martin said.
"I'd just like to say thank you, and he's sadly missed, and we'll continue to fight for justice for him," he added.
At a press conference following the Congressional meeting Fulton expressed her anguish.
"I would just like to say that of course my heart is broken. But it breaks even more to know that we have not gotten justice yet and that this man has not been arrested for shooting and killing my son," she said.
Martin was shot dead in a gated community in Sanford, Fla., on Feb. 26.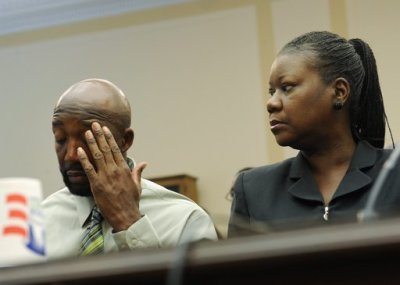 He was killed as he walked through the neighborhood from a convenience store. The teen was unarmed wearing a hooded sweatshirt and carrying a bag of Skittles and a can of iced tea. He was shot dead by neighborhood watch captain 28-year-old George Zimmerman, who has claimed self-defense.
Notably, Zimmerman had been instructed during his call to 911 when he was reporting a "suspicious guy" to not follow Martin. 
Zimmerman has yet to be arrested in the case, which has sparked national outrage and generated a national debate on race, racial profiling, and hate crimes.
South African peacemaker Archbishop Desmond Tutu released a statement Tuesday, calling the local police to act in an appropriate manner.
"We grieve with Trayvon Martin's family at the needless killing of their son," Tutu, who fought apartheid in South Africa, stated. "We grieve that the police have not as yet reacted appropriately to this shameful act. We grieve for a people and nation we admire where such acts can still happen."
Presiding Bishop Mark S. Hanson of the Evangelical Lutheran Church in America also expressed his lament.
"The deep sorrow of Trayvon Martin's family has become our shared public lament," he said Tuesday, according to the ELCA News Service. "The tragedy of Trayvon's death must move us to ask searching questions. How much longer shall any child live in fear because of the color of their skin? Are we, who are white, ready to confront our power and privilege for the sake of a more just and inclusive society? Are we as a nation ready to reform our criminal justice system?"