Trump Admin. Directive Protects Faith-Based Contractors From LGBT Discrimination Policy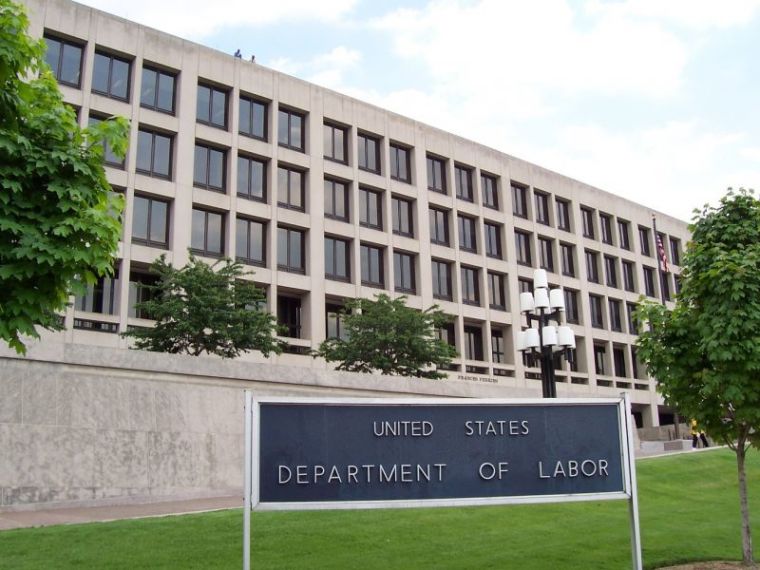 The Trump administration has issued a directive to protect the rights of faith-based federal contractors who have religious objections to same-sex marriage and homosexuality.
On Friday, the Department of Labor's Office of Federal Contractor Compliance Programs issued the directive to "incorporate recent developments in the law regarding religion-exercising organizations and individuals."
Specifically, the directive cites three recent U.S. Supreme Court rulings and executive orders on religious freedom issued by President Donald Trump.
The agency suggests that while discrimination based on sexual orientation and gender identity are still not permitted under Executive Order 11246 (as amended by former President Barack Obama in 2014), the First Amendment rights of companies and individuals who have religious objections to homosexuality will be protected.
"Section 202 of E.O. 11246 does not apply to 'a [g]overnment contractor or subcontractor that is a religious corporation, association, educational institution, or society, with respect to the employment of individuals of a particular religion to perform work connected with the carrying on by such corporation, association, educational institution, or society of its activities,'" the directive states.
The directive cites recent court decisions that have "addressed the broad freedoms and anti-discrimination protections that must be afforded religious-exercising organizations and individuals."
Among the cases cited is the Supreme Court's ruling this June in favor of Christian baker Jack Phillips, who was punished by the Colorado state government for refusing to design a cake for a same-sex wedding in 2012. Same-sex marriage was illegal in Colorado at that time.
The directive also cited last year's Supreme Court ruling in favor of a Missouri church that was denied funding for playground repairs made available through the state government to other child care organizations. The church was denied the funding simply because it's a place of worship even though the funding would be used for secular purposes.
Additionally, the directive cited the 2014 Supreme Court decision siding with the crafts store chain Hobby Lobby in its case against the Obamacare contraceptive mandate case.
The new directive lays out instructions for OFCCP staff to follow when enforcing the non-discrimination policy and exemptions.
The directive states that staff "cannot act in a manner that passes judgment upon or presupposes the illegitimacy of religious beliefs and practices." Additionally, staff must be "neutral and tolerant" of religious beliefs.
OFCCP staff also cannot "condition the availability of [opportunities] upon a recipient's willingness to surrender his [or her] religiously impelled status."
Additionally, faith-based groups must be given a level playing field when competing for government contracts, the directive states.
The directive comes after Trump moved last year to reverse an Obama-era executive order that required companies wanting to contract with the federal government to comply with various federal laws and executive orders. Trump did not rescind another Obama order that prohibits contractors from discriminating on the basis of sexual orientation or gender identity.
The new directive has been applauded by social conservatives. Among them is Sen. James Lankford, R-Okla., who is the co-chair of the Congressional Prayer Caucus and a former Baptist youth leader.
"In America, people and organizations don't have to check their faith at the door in order to work with or for the federal government," Lankford said in a statement. "I applaud today's changes from the Department of Labor that ensure that faith-based organizations are welcome partners with the government to serve the American people."
Mat Staver, president of the conservative religious freedom law group Liberty Counsel, said in a statement that "people of faith should not have to set aside their sincerely held religious beliefs to appease others."
"I commend the Trump administration and the Department of Labor for taking a strong stand in this new policy directive to protect the religious freedom of individuals and organizations under federal law and the U.S. Constitution," Staver said.
The new directive, however, is staunchly opposed by LGBT activist groups that claim it opens the door for federal contractors to discriminate against LGBT people in their hiring policies.
"The directives coming out of the Department of Labor today represent the latest move by the Trump-Pence administration to turn the notion of religious liberty into a weapon of discrimination," Sharon McGowan, chief strategy officer for the LGBT legal group Lambda Legal, told Bloomberg Law. "The notion that the OFCCP needs to re-examine how it is enforcing nondiscrimination mandates against federal contractors is a 'solution' in search of a problem."