Trump blasts Arkansas Gov. Asa Hutchinson for vetoing bill banning 'chemical castration of children'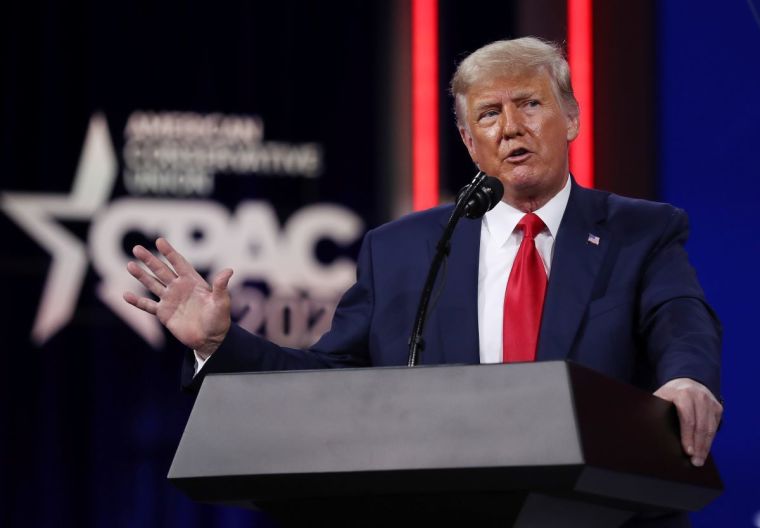 Former President Donald Trump rebuked Arkansas Gov. Asa Hutchinson for vetoing a bill banning the "chemical castration of children" in his state.  
"The lightweight RINO Governor of Arkansas, just vetoed a Bill that banned the CHEMICAL CASTRATION OF CHILDREN. 'Bye-bye Asa,' that's the end of him!" Trump said in a statement released Thursday. 
The 45th president went on to praise his former press secretary, whom he has endorsed for the 2022 gubernatorial race, in his statement: "Fortunately for the great state of Arkansas, Sarah Huckabee Sanders will do a fantastic job as your next Governor." 
The Arkansas House voted 75-25 and the Senate 25-8 on Tuesday afternoon to override the governor's veto of House Bill 1570, also known as the "Save Adolescents From Experimentation Act" and its acronym, the SAFE Act.  
Arkansas is the first state in the nation to ban the prescribing of puberty blockers, hormonal drugs and the surgical body mutilation of minors suffering from gender dysphoria.  
The medicalization of gender has come under increased scrutiny in recent months, particularly in light of a U.K. court ruling in a judicial review against the Tavistock clinic in London. Last year it was decided that youth younger than 16 lack the maturity to understand the risks to such experimental and irreversible procedures and thus cannot give informed consent under the Gillick competency, the U.K.'s legal standard by which youth can consent to medical procedures.
In addition to Arkansas, Alabama and Tennessee are considering similar bills. The proposed measures in the cluster of southern states follow an unsuccessful attempt in South Dakota last year to prohibit the use of puberty-suppressing drugs, cross-sex hormones, and elective cosmetic surgeries, such as a double mastectomy (what's known as "top surgery") or orchiectomy ("bottom surgery"), which is the removal of the testicles.
In an interview with Fox News' Tucker Carlson earlier this week, Hutchinson defended his veto of the bill on the grounds of limited government. 
"Why do you think it's important for conservatives to make certain that children can block their puberty, be chemically castrated? Why is that a conservative value?" Carlson inquired of the Arkansas governor. 
Hutchinson replied: "You have parents involved in very difficult decisions" and "physicians that are involved in these decisions."
When Hutchinson asserted the medical expertise of various groups in favor of administering the experimental drugs, Carlson pressed him to explain further. 
Hutchinson added: "The research that I have seen shows that these troubled youth, these ones that have gender dysphoria, that they also have depression, they have suicidal tendencies. It's a higher suicide rate than others. And they go to their parents, the parents go to doctors and they try to deal with this very difficult issue." 
Studies have shown that depression or suicidal ideation are not reduced after individuals undergo procedures to change their bodies to look more like the opposite sex. 
According to a 2003 study conducted in Sweden, those who underwent body mutilation or were prescribed cross-sex hormones had a higher suicide rate than the general population.
The study, which followed 191 male-to-female gender reassignments and 133 female-to-male gender reassignments from 1973–2003, found that suicide attempts and in-patient psychiatric treatment actually increased among those who had a sex change.
Other studies have also shown that gender-transition surgery doesn't improve mental health.
To read The Christian Post's six-part series on transgender issues, click here.