Trump Calls Jesus on Cross 'Loser' in Presbyterian Church's Easter Billboard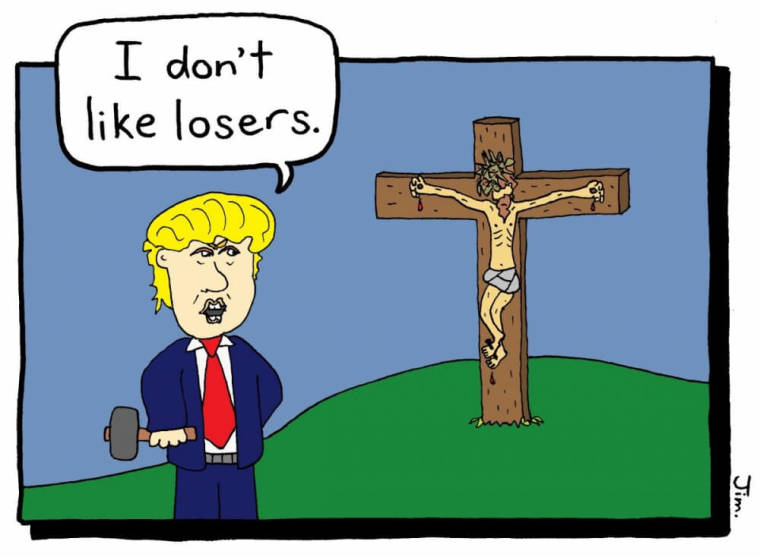 A New Zealand Presbyterian church has blasted Republican presidential candidate Donald Trump with an Easter billboard depicting Trump calling Jesus a "loser" at the crucifixion.
The Community of Saint Luke in Remuera also made the point of calling out Trump's constant depictions of himself as a "winner," while calling others "losers," by reminding Christians that Christ was rejected by society and died broke without any money.
"For those of us at St Luke's, the cross is about politics. Jesus was killed – violently, publically and shamefully – because he spoke truth to power and confronted the leaders of his day about their treatment of the outcasts," said Glynn Cardy, a minister at Saint Luke's.
"To the Trumps of his day, and to those who see winners as having money and power, the Jesus of the Bible was a loser who associated with those rejected by society. And he died broke," Cardy added.
"Jesus had an alternative vision of reality, however. He was a person who sided with minorities and those who were most vulnerable, and it was this that got him killed."
The billboard in question shows Trump holding a hammer looking on at Christ nailed to the cross, saying "I don't like losers."
Cardy argued that Trump's stances on Muslims, Mexicans and women are offensive to Christianity, and noted that the ad will stay up throughout the Church's Lenten and Easter season.
Trump, the current GOP frontrunner, has insisted that he is a Christian and part of the Presbyterian denomination on a number of occasions.
He has called various people "losers" throughout his business and campaigns career, including his election rivals, such as former Florida governor Jeb Bush, who has since dropped out.
Trump has been called out by fellow Republicans for some of his most controversial comments, such as suggesting that Arizona Senator John McCain is not a war hero "because he was captured" and spent five years as a prisoner of war in Vietnam.
Bush and former Texas Governor Rick Perry both spoke out against Trump's suggestion, with the former writing:
"Enough with the slanderous attacks. @SenJohnMcCain and all our veterans – particularly POWs have earned our respect and admiration."
Trump later defended his remarks by stating that he was trying to give credit to other soldiers who served well in the war but were not captured, and are eventually forgotten.
It is not the first time Trump has seemingly been targeted by a Presbyterian church, as he attended a church service in Iowa in January where the preacher gave a sermon about taking care of Syrian and Mexican migrants.
"Jesus is teaching us today that he has come for those who are outside of the church," said the Rev. Dr. Pamela Saturnia of Muscataine's First Presbyterian Churchat.
Saturnia called for healing and acceptance for "those who are the most unloved, the most discriminated against, the most forgotten in our community and in our world."
After the service, Trump admitted that part of the sermon may have indeed been aimed at him.
"I don't know if that was aimed at me … perhaps," he said.