Trump Cancels N. Korea Summit: 'I Pray to God' US Doesn't Have to Use Nuclear Weapons
N. Korea Says It Still Wants to Meet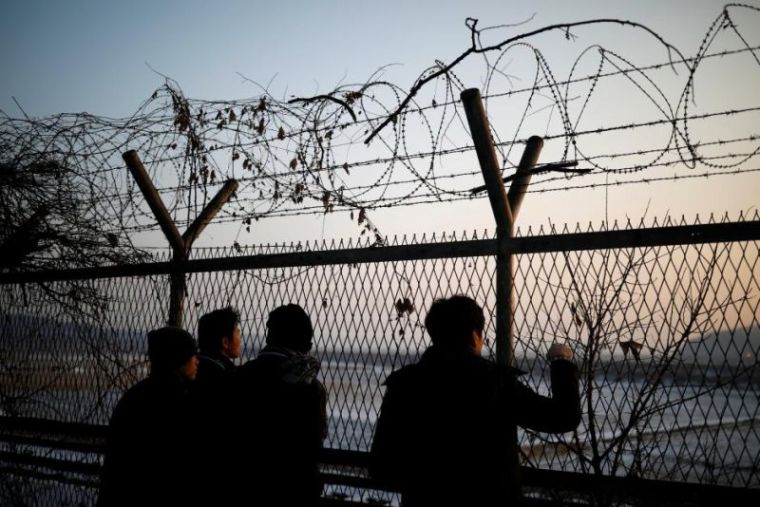 President Donald Trump told North Korean leader Kim Jong Un that he is "praying to God" he doesn't have to use the United States' "massive" nuclear weapons, as he canceled their planned meeting for June 12 in Singapore.
North Korea responded to Trump's letter on Friday morning by saying that despite the breakdown in relations this past week, Kim is still very much willing to meet with Trump and engage in peace talks.
In his letter to the North Korean leader, Trump wrote: "I was very much looking forward to being there with you. Sadly, based on the tremendous anger and open hostility displayed in your most recent statement, I feel it is inappropriate, at this time, to have this long-planned meeting.
"Therefore, please let this letter serve to represent that the Singapore summit, for the good of both parties, but to the detriment of the world, will not take place. You talk about nuclear capabilities, but ours are so massive and powerful that I pray to God they will never have to be used."
Trump added that he had felt there was a "wonderful dialogue" building up between the two leaders, and said he was still hoping to meet Kim one day.
"If you change your mind having to do with this most important summit, please do not hesitate to call me or write," the U.S. president wrote.
"The world, and North Korea in particular, has lost a great opportunity for lasting peace and great prosperity and wealth. This missed opportunity is a truly sad moment in history."
Kim Kye Gwan, North Korea's vice foreign minister, responded in a statement on the state-run Korean Central News Agency on Friday, saying Trump's decision to cancel was "unexpected."
"The U.S. side's unilateral announcement of the cancellation of the summit makes us think over if we were truly right to have made efforts for it and to have opted for the new path.
"We remain unchanged in our goal and will to do everything we could for peace and stability of the Korean peninsula and humankind, and we, broad-minded and open all the time, have the willingness to offer the U.S. side time and opportunity," he added.
"The first meeting would not solve all, but solving even one at a time in a phased way would make the relations get better rather than making them get worse. The U.S. should ponder over it.
"We would like to make known to the U.S. side once again that we have the intent to sit with the U.S. side to solve problem regardless of ways at any time."
Despite a series of moves seemingly aimed at improving relations between the countries, such as releasing three American Christian prisoners earlier in May, North Korea had made its dissatisfaction known on a number of topics this past week.
Kim's regime had been unhappy over annual joint military drills between the U.S. army and South Korea, which it says pose a threat to its sovereignty.
And on Thursday, Choe Son Hui, a vice minister in the North Korean Foreign Ministry, slammed U.S. Vice President Mike Pence, calling him a "political dummy" over comments that there could be serious consequences for Kim if he does not agree to abandon all nuclear aspirations, which was set to be one of the centerpieces of the planned talks.
"Whether the U.S. will meet us at a meeting room or encounter us at nuclear-to-nuclear showdown is entirely dependent upon the decision and behavior of the United States," Choe told KCNA on Thursday.
Choe called Pence a "political dummy" specifically for comparing North Korea to Libya, where leader Moammar Gadhafi was ousted from power and killed a decade after his nation surrendered its nuclear aspirations in a deal with the U.S.
"As a person involved in the U.S. affairs, I cannot suppress my surprise at such ignorant and stupid remarks gushing out from the mouth of the U.S. vice president," Choe said at the time.