Trump Comforts Harvey Survivors in Texas, Louisiana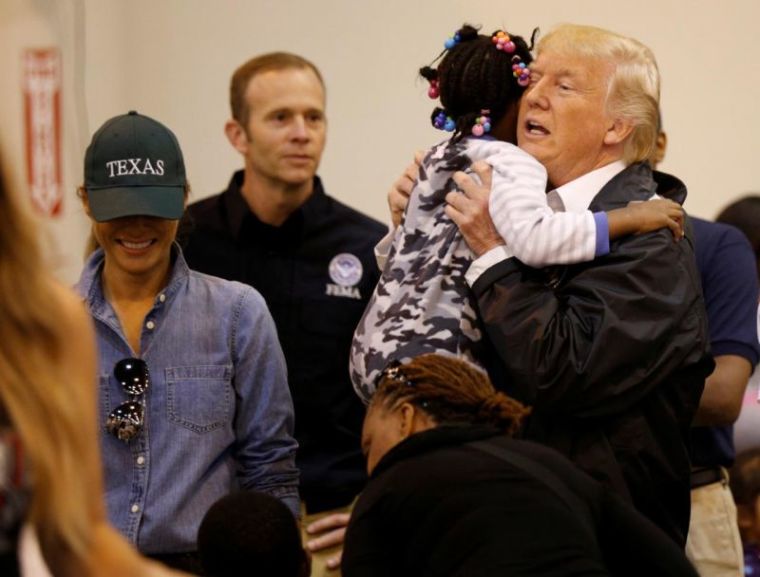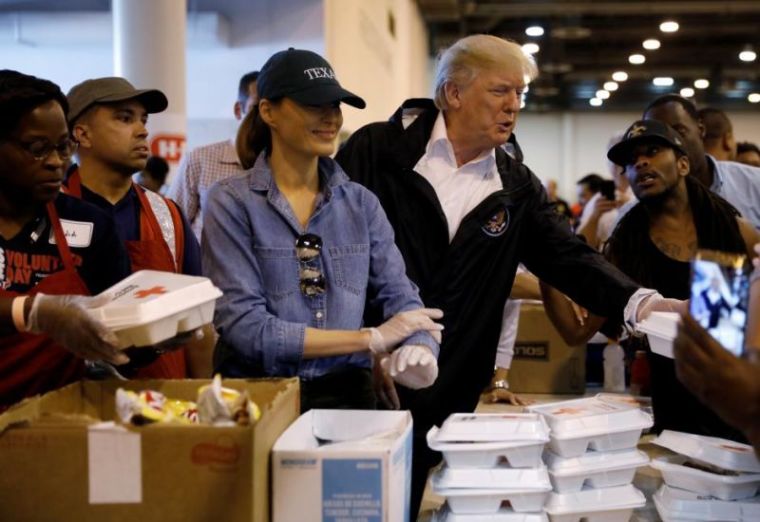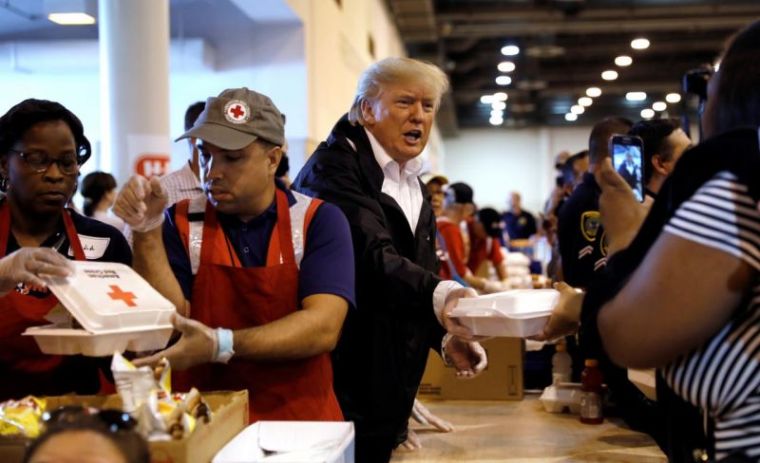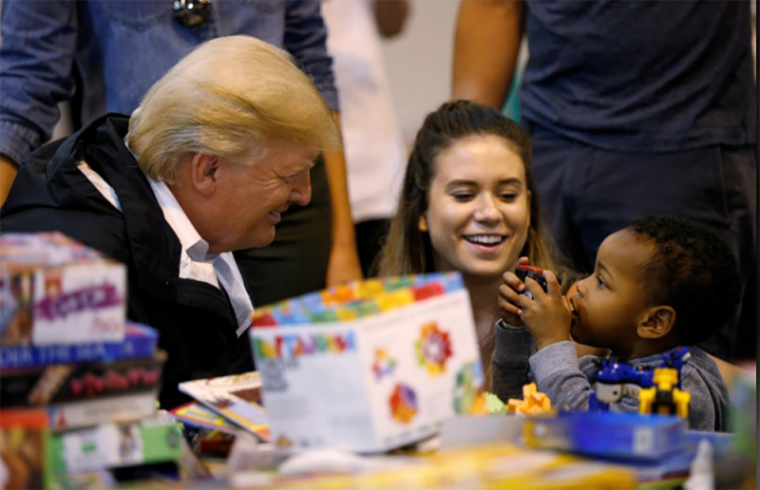 View Photos
President Donald Trump and first lady Melania Trump comforted victims of Hurricane Harvey, played with and hugged children and served food to displaced people during a visit to Texas and Louisiana on Saturday.
Trump passed out food and relief supplies and stopped at a street in Houston that had until recently been under water, according to Reuters, which reported that he also made an impromptu stop to visit with residents who were cleaning debris from their homes.
"They were just happy ... a lot of happiness," Trump said at his first stop at a shelter in the Houston area, according to CBS News. "It's been very nice. It's been a wonderful thing. It's  — as tough as this was, it's been a wonderful thing. I think even for the country to watch and for the world to watch. It's been beautiful. ... I'm going to be doing a little help over here."
The flooding that followed the storm has killed at least 44 people, displaced over 1 million and dumped as much as 50 inches of rain.
Trump hugged, kissed and played with children at the "kid zone" in Houston's NRG Center, a convention facility which has been turned in to the city's largest emergency shelter.
Trump and his wife also visited the First Church near Pearland in suburban Houston, where they helped load a few cars with boxes of supplies for victims.
During their first visit to Texas on Tuesday since the storm's landfall, the president and his wife could not meet with victims, which drew criticism.
In Louisiana, they visited a National Guard Armory and met with officials, WMUR.com reported.
"Our thoughts and prayers continue to be with the people and families so deeply effected by Harvey," Melania Trump was quoted as saying. "After spending the day with children, women and men who have been impacted by the storm, it has only furthered our determination to provide all of the support we can as we pledge to continue our efforts in the long road ahead in the months to come."
The president on Friday asked Congress for $7.85 billion for response and initial recovery efforts. Texas Gov. Greg Abbott has said there's a need for more than $125 billion.
On Friday, Trump signed a declaration for Sunday to be observed a National Day of Prayer for the survivors of Harvey and for the response and recovery efforts. He also pledged $1 million of his personal money to help victims in Texas and Louisiana.
"From the beginning of our nation, Americans have joined together in prayer during times of great need to ask for God's blessing and God's guidance," Trump told the christian leaders Friday in the Oval Office. "When we look across Texas and Louisiana, we see the American spirit of service embodied by countless men and women."
White House Press Secretary Sarah Sanders told reporters Thursday that the president is "pledging a million dollars of personal money to help."
On Thursday, Vice President Mike Pence, his wife Karen, and Texas Gov. Greg Abbott joined the Rev. Franklin Graham in Rockport, Texas, to help Samaritan's Purse staff and volunteers as they carried out relief work.
"After difficult days, the president sent us here, to say the American people are with you. We will be here every day until this region rebuilds bigger and better than ever before," Pence told Samaritan's Purse volunteers.