Trump Defends Surrogate Who Called Him a Genius in Contentious CNN Interview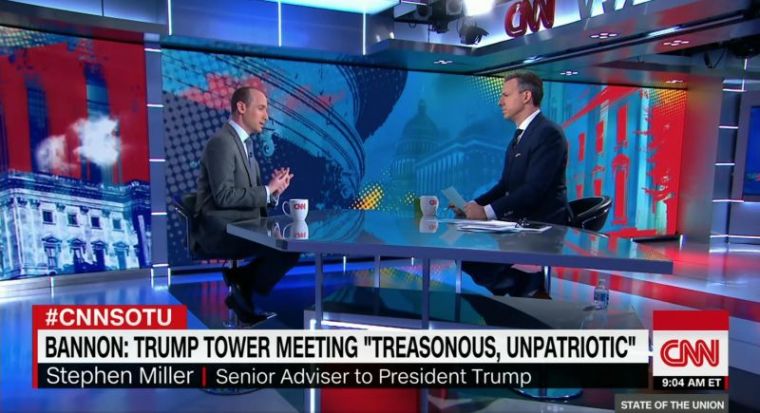 President Donald Trump defended his adviser, Stephen Miller, after CNN host Jake Tapper abruptly ended an interview with him while discussing Michael Wolff's new controversial book, Fire and Fury: Inside the Trump White House, and reportedly had him escorted off the set of "State of the Union."
"Jake Tapper of Fake News CNN just got destroyed in his interview with Stephen Miller of the Trump Administration. Watch the hatred and unfairness of this CNN flunky!" Trump wrote on Twitter on Sunday, after Tapper chose to end the conversation with the White House senior adviser for policy.
Tapper was speaking to Miller about the controversial book, which claims to carry "a wealth of new details about the chaos in the Oval Office" and offer reasons behind the removal of FBI director James Comey. The book uses former Trump aide Steve Bannon as its main source.
"It's tragic and unfortunate that Steve would make these grotesque comments so out of touch with reality and obviously so vindictive," Miller told Tapper during the interview. "But what I can tell you unequivocally is that the allegations and insinuations in this book, which are — which are a pure work of fiction, are nothing but a pile of trash through and through."
Responding to Trump's tweet, Tapper posted a link to the interview on Twitter, and wrote, "Here's the interview; judge for yourself."
Tapper also wanted Miller to respond to questions critics have asked over the president's mental stability.
Miller said, "I saw a man who was a political genius, somebody who we would be going down, landing, in descent there would be a breaking news development. And in 20 minutes, he would dictate 10 paragraphs of new material to address that event ..."
On Saturday, Trump tweeted that he was "like, very smart," and a "very stable genius," in response to the Fire and Fury allegations. 
Miller asked Tapper, "Why don't you just give me three minutes to tell you the truth about the Donald Trump that I know and that all of our campaign staff knows?" He also accused CNN of "24 hours of negative, anti-Trump, hysterical coverage," which, he said, has led to "spectacularly embarrassing false reporting" from the network.
Later, Tapper teased Trump by tweeting, "For those stunned by the impropriety of openly questioning a president's mental health," with a Trump tweet from October 2014, which read, "I am starting to think that there is something seriously wrong with President Obama's mental health. Why won't he stop the flights. Psycho!"
After Tapper and Miller talked over one another during the interview, the CNN host told Miller to "settle down," and said, "I think I've wasted enough of my viewers' time. Thank you, Stephen."
Business Insider quoted two sources as saying that after the recording of the interview, Miller was politely asked to leave several times, and then security was called and he was escorted out.