4 Things to Know About Trump's Education Secretary Pick Betsy DeVos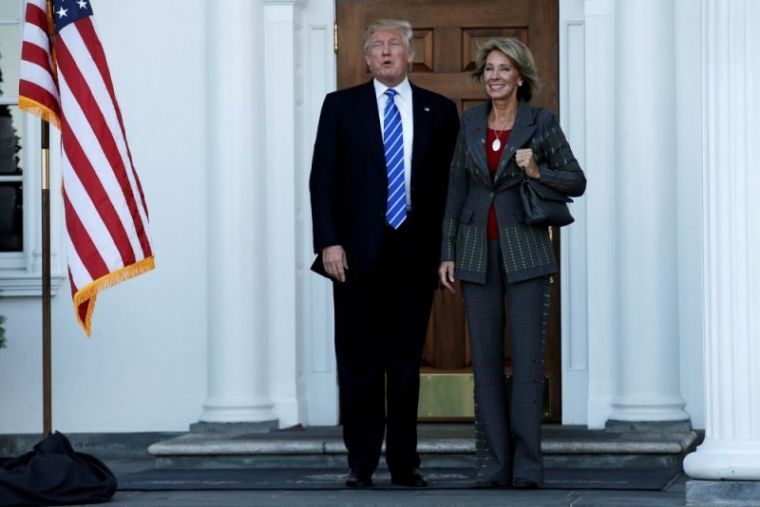 President-elect Donald Trump continues to make Cabinet appointments and one of his latest choices is turning heads in the school choice advocacy community, with school voucher proponents rejoicing and teachers unions lamenting.
In selecting Betsy DeVos to head the Department of Education, Trump called her a "a brilliant and passionate education advocate" who will work to "reform the U.S. education system and break the bureaucracy that is holding our children back so that we can deliver world-class education and school choice to all families."
Here are 4 things you should know about Betsy DeVos, who, pending Senate confirmation, will likely be the next U.S. Secretary of Education.
1. She is a Christian with deep ties to the Michigan Reformed community.
DeVos, 58, is wife to husband Dick, and has four kids and five grandchildren. Originally from Holland, Michigan, DeVos is a graduate of Calvin College, named after Protestant Reformer John Calvin.
Western Michigan is known for being more politically and religiously conservative than the rest of the state and is a concentration of Reformed theology. She has previously served as an elder at the Mars Hill Church, where Rob Bell used to be the lead pastor.
2. She is champion of the school choice movement, a charter schools advocate, and an opponent of Common Core, though she is connected to Common Core-supporting groups.
Much to the chagrin of teachers unions and public school activists, DeVos is a strong advocate for the school choice movement. She chairs the American Federation for Children, a Washington D.C.-based organization dedicated to increasing school choice options across the nation.
As noted by Detroit Free Press Wednesday, in 2000 the DeVoses funded a statewide ballot initiative to amend the Michigan Constitution to allow state tax revenues to be used to fund private school tuition via education vouchers, which did not pass. In 2010, they opened their own charter high school, the West Michigan Aviation Academy, which is located on the grounds of the Gerald R. Ford International Airport in Grand Rapids.
According to USA Today Wednesday, Randi Weingarten, president of the American Federation of Teachers, called her "the most ideological anti-public education nominee" ever since the secretary of education became a Cabinet-level position forty years ago. By nominating DeVos, she added, Trump has made it "loud and clear that his education policy will focus on privatizing, defunding and destroying public education in America."
In the midst of media reports saying that she was in favor of Common Core, DeVos wrote on her personal website: "I am not a supporter — period ... Have organizations that I have been a part of supported Common Core? Of course. But that's not my position. Sometimes it's not just students who need to do their homework."
Common Core, which is a controversial set of standards for what students should know at each grade level developed by the National Governors Association and other groups, she said, amounts to a "federalized boondoggle."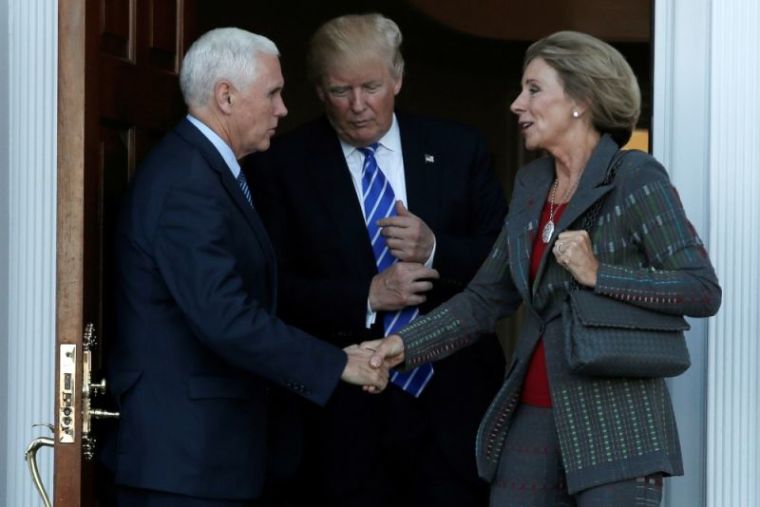 3. She was not a Trump supporter during the primaries.
Along with South Carolina Governor Nikki Haley, whom Trump recently tapped to be his Ambassador to the United Nations, and Mitt Romney, who is being considered for Secretary of State, DeVos did not back the President-elect during the primaries.
Like Haley, DeVos was a vocal supporter of Florida Senator Marco Rubio. In a March interview with The Washington Examiner, she asserted several times that she did not think that Trump would be the Republican Party's nominee or that he even represented the Republican Party.
4. She is a conservative philanthropist and her family is arguably the most prominent player in Michigan Republican politics.
The DeVos family is widely known for their strong support of Republican candidates and conservative causes. DeVos' father-in-law, Richard DeVos, founded Amway and is worth $5.1 billion, according to Forbes. The DeVos family owns the NBA's Orlando Magic and Dick DeVos is the team's president and CEO.
Betsy DeVos' father is Edgar Prince, founder of the auto parts supply company Prince Corporation based in Holland, Michigan. Her brother, Erik Prince, founded the controversial security company Academi, formerly known as Blackwater. 
The conservative Heritage Foundation's DeVos Center for Religion and Civil Society was established in 2004 through a grant from her family's foundation. 
The DeVos Center at Heritage seeks to "improve public discourse on these issues and to integrate serious reflection on the role of family, religion, and civil society across policy areas," according to its website. Her family's foundation has also given grants to Christian universities and institutions, like Michigan's Hope College, and Pennsylvania's Grove City College and the Willow Creek Association, according to the Washington Post.
Michigan's Republican governor Rick Snyder hailed her selection as Education Secretary.
"Betsy's appointment will mean great things for Michigan and for children around the nation as she takes her no-nonsense commitment to empowering parents to the highest levels in Washington," he said in a statement Wednesday.