Trump Knocks Carson Because He's 'a Doctor Who Wasn't Creating Jobs'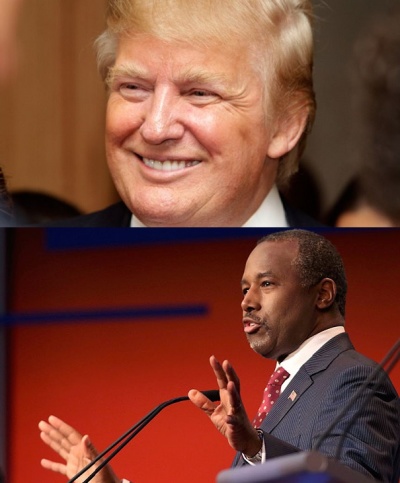 Despite calling Dr. Ben Carson a friend he could not attack, Donald Trump criticized him Wednesday saying the retired neuro-surgeon does not create jobs like he does.
Dr. Carson and Trump are now tied at 23 percent in Iowa in a recent Monmouth University poll released on Monday.
Trump, who previously said he would be the greatest jobs president "God ever created," told the Daily Caller in an interview on why he felt he would be better than Carson.
"I think it's a very difficult situation that he'd be placed in," declared Trump. "He's really a friend of mine, I just think it's a very difficult situation that he puts himself into, to have a doctor who wasn't creating jobs and would have a nurse or maybe two nurses. It's such a different world. I've created tens of thousands of jobs over the years."
In an interview on the "Kelly File" with Megyn Kelly, Brit Hume declared, considering the new polling, Trump's comments on Carson are likely not coincidental.
"It's early. There will be a lot of this. And how this plays out is a long way from being decided," declared Hume.
Trump, who called Carson "a wonderful guy," added he thinks it be tough for somebody who spent their whole life being a surgeon to be an effective president.
A national Monmouth University poll released Thursday showed Carson surging not just in Iowa, but nationally.
"The latest Monmouth University Poll of Republican voters nationwide also finds Ben Carson moving into second place, Jeb Bush slipping to third, and Scott Walker fading into the background," declared the poll.
Carson jumped 13 points nationally among Republicans to 18 percent, still trailing Trump who secured 30 percent of the Republican support.
Sixty-seven percent of Republicans declared that they want a nominee for the party who is from outside of government, which may well be good indicators for outsiders like Carson, Trump, and Carly Fiorina.
The poll showed Carson to have the highest favorability among all Republicans running for president with 81 percent viewing him in a positive light. Only 6 percent of those surveyed viewed the retired neuro-surgeon in a negative light.
On economic issues, Carson has argued that politicians are not serious about paying down the $18 trillion national debt. He has argued for a flat tax between 10 and 15 percent, eliminating the IRS, all while closing deductions and corporate loopholes in the tax code.
In The Daily Caller interview, Trump also criticized President Obama for the amount of golf he plays.
"The problem with the president, he's played more than people on the PGA tour," Trump said. "He plays a lot. He's like a touring professional in terms of the amount of play."
Trump added that Obama does not use golf as a "political tool" to "get things done" or "make deals."
Trump signed a pledge Thursday offering his allegiance to the Republic Party, saying he will not run as an independent in the general election if he fails to secure the nomination. While the pledge is not believed to be legally binding, it shows Trump's serious insistence about running as the Republican nominee and fully cooperating with the party in the general election.