Trump-Putin Summit: 'World Wants to See Us Get Along'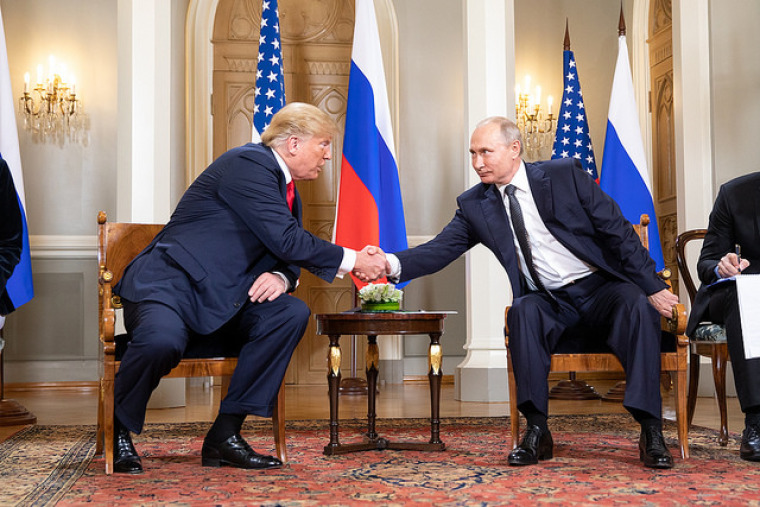 Hours after blaming his predecessors for tensions with Moscow, President Donald Trump said at the start of his one-on-one talks with his Russian counterpart Vladimir Putin in Finland on Monday that he thinks "the world wants to see us get along."
"I really think the world wants to see us get along … I think we have great opportunities together ... frankly we have not been getting along the last few years," Trump said as the summit, in which the two leaders were joined only by their interpreters, began Monday, according to CBC News.
Trump said he hopes for an "extraordinary relationship," BBC reports.
"We are the two great nuclear powers. We have 90 percent of the nuclear, and that's not a good thing, it's a bad thing," Trump added, according to The New York Times.
President Trump also praised Russia for hosting the soccer World Cup, which ended Sunday. "I'd like to congratulate you on a really great World Cup, one of the best ever. It was beautifully done, so congratulations," he said.
Trump also said, "We will have discussions on everything from trade to military to nuclear … a little bit about China — our mutual friend, President Xi."
Days earlier, the Justice Department indicted 12 Russian intelligence agents for hacking the Democratic National Committee and Hillary Clinton's presidential campaign.
However, earlier on Monday, President Trump apparently denied that ties with Russia have been strained by Moscow's annexation of Crimea, alleged election interference by Russia in 2016, or Moscow's military support for President Bashar al-Assad in Syria.
"Our relationship with Russia has NEVER been worse thanks to many years of U.S. foolishness and stupidity and now, the Rigged Witch Hunt!" he tweeted, criticizing the investigation that led to the indictments of the Russian agents.
On Saturday, Trump spoke to "CBS Evening News" anchor Jeff Glor in Scotland. What asked about the United States' "biggest foe globally right now," Trump first cited the European Union.
"Well, I think we have a lot of foes. I think the European Union is a foe, what they do to us in trade," he said. "Now, you wouldn't think of the European Union, but they're a foe. Russia is foe in certain respects. China is a foe economically, certainly they are a foe. But that doesn't mean they are bad. It doesn't mean anything. It means that they are competitive."
He added, "I respect the leaders of those countries. But, in a trade sense, they've really taken advantage of us and many of those countries are in NATO and they weren't paying their bills."