Trump Forms Religious Advisory Board That Includes Robert Jeffress, Jerry Falwell Jr.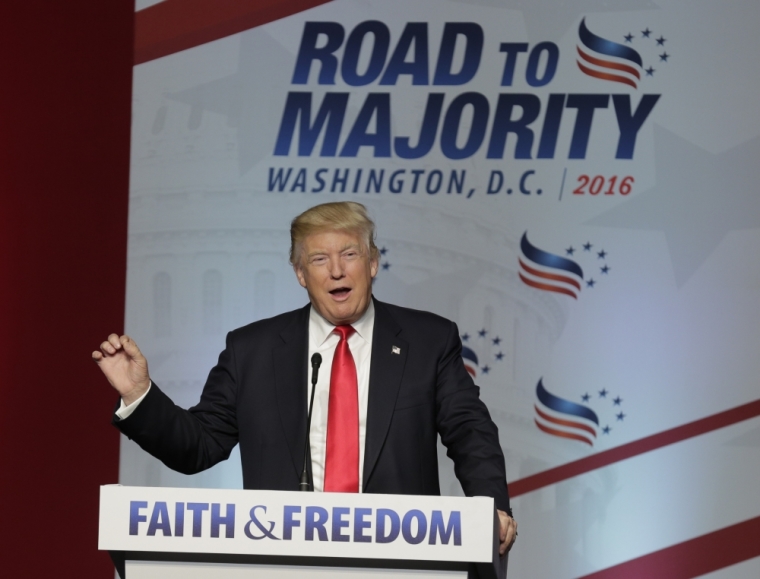 Presumptive Republican presidential nominee Donald Trump announced the creation of a religious advisory executive board.
In an email sent out to supporters on Tuesday afternoon, the Trump campaign explained that those on the board were not asked to endorse Trump in order to be selected.
"Rather, the formation of the board represents Donald J. Trump's endorsement of those diverse issues important to Evangelicals and other Christians, and his desire to have access to the wise counsel of such leaders as needed," read the emailed announcement.
"Mr. Trump has received widespread support from Evangelical leaders, communities and voters, winning the majority of the Evangelical vote throughout the primaries."
The listed board members include several notable evangelical leaders, including former Focus on the Family president Dr. James Dobson, Liberty University President Jerry Falwell, Jr., Bishop Harry Jackson, First Baptist Church of Dallas Pastor Robert Jeffress, and Faith and Freedom Coalition founder Ralph Reed.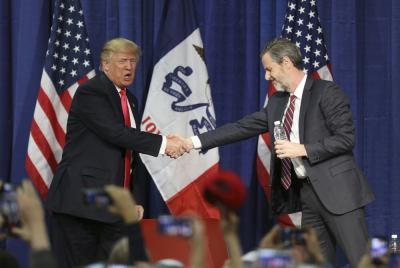 Since the beginning of his campaign, Trump has had a complicated relationship with evangelical voters, a major voting bloc within the Republican party.
Darren Patrick Guerra, an associate professor of Political Science at Biola University, researched exit polls showing that while a plurality of evangelical Republicans voted for Trump, the vast majority supported other candidates.
"64% of evangelicals in all southern states voted for someone other than Trump. Indeed, a majority (51%) voted collectively for either Rubio or Cruz instead of Trump," wrote Guerra in March.
"In addition, one must also realize that these polls only address Republican primary voters, but there are significant groups of evangelicals who are Democrats or Independents, so the anti-Trump vote amongst all evangelicals in the country might reach 80-90% once non-Republican primary voters are accounted for. With these numbers it seems difficult to draw the conclusion that evangelicals widely support Trump."
The Wall Street Journal story about Trump's plans to create a religious advisory panel comes days after Trump spoke before a gathering of conservative Christians in Washington, DC.
Earlier this month, Trump spoke at the Faith & Freedom Coalition's 2016 Road to Majority Conference, assuring attendees that as president he will "restore faith to its proper mantle" in America.
"People who go to church, who work and work in religious charities and so forth and share their values, these are the foundations of our society," said Trump.
"We will restore respect for people of faith, who dutifully raise their children, follow our laws and rules and we have to really take care of them. We have to take care of our neighbors. Right now, our neighbors are not being taken care of. We have to restore the rule of law on our border, in our government."