Trump Says He'll Kick Syrian Refugees Out of America If Elected President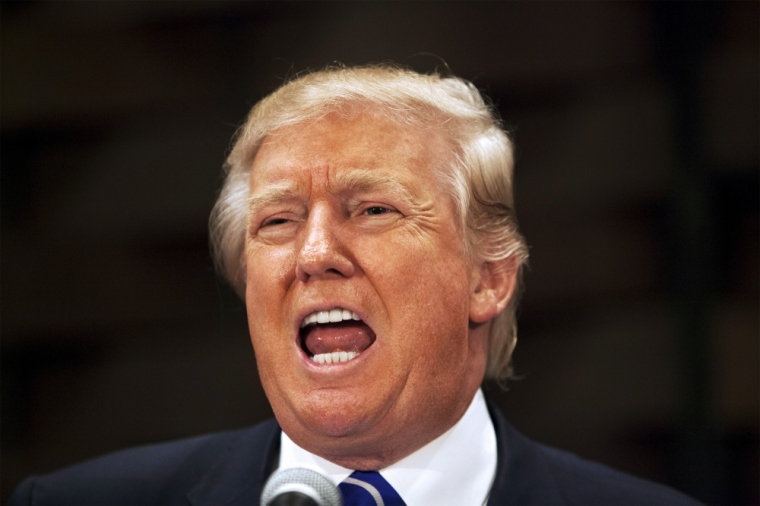 GOP presidential candidate Donald Trump has said that if elected, he'll send Syrian refugees back out of America. Trump warned that some of the refugees seeking asylum in the United States might be operatives of the Islamic State terror group, which he said would be "one of the great tactical ploys of all time."
"If I win, they're going back," Trump told supporters at a speech in Keene, New Hampshire, on Wednesday, BBC News reported.
President Obama has said the U.S. will take in an additional 10,000 refugees from Syria in 2016, seeking to help Europe with the ongoing migrant crisis.
At least half a million people have crossed the Mediterranean into Europe this year, fleeing terrorism and civil war, which has created crisis situations along several European borders.
Trump spoke of rumors that the U.S. wants to take in 200,000 Syrians, and warned that they "could be ISIS," however.
"I'm putting the people on notice that are coming here from Syria as part of this mass migration, that if I win, if I win, they're going back," he said.
Earlier in September, Trump called the crisis "an unbelievable humanitarian problem" in an interview on Fox.
"On a humanitarian basis, something does have to be done," Trump had said.
"It's a serious problem. We haven't seen anything like it since the second world war, and it's getting worse and worse."
Some Evangelical Christian groups have said that more needs to be done to help Syrians wanting to come to the U.S., many of whom are Christians fleeing persecution.
The Rev. Kevin Jessip, president of Global Strategic Alliance, told The Christian Post back in September that his ministry has initiated a "Fostering Families" program that is calling on over 1,000 churches in America to take in persecuted refugees.
"It's not large enough by any means," Jessip told CP about the current outreach by the Obama administration.
"America in its past has transplanted entire communities of Somalian refugees into Minneapolis-St. Paul, and yet we've denied Christians visas to come into the Untied States. With Germany taking 800,000 to a million people, and with these European nations being overrun, the U.S. can be doing much more," he added.
The Guardian noted that other GOP presidential candidates, such as former Florida Gov. Jeb Bush, have struck a different tone from Trump on Syrian refugees coming to the U.S.
"I think we're duty bound to provide support," Bush told an audience in Bedford. "This is normally what we do unbelievably well. We act on our heart, we organize it well, we take care of people. This is typically with support of government, but it's normally with organizations that do great work."
Bush admitted that there is a potential security risk from refugees, and said that there will need to be screenings to make sure dangerous people are not allowed into the country. He also said that most Syrian refugees have little choice but to flee and seek asylum abroad.
"People are leaving not because they're immigrants looking for a better life. They're leaving because if not, they'll die. It's that simple. And we have to play a role in providing support," he added.