Trump Speaks to Thousands in Florida, Blasts 'Fake News' Media; Melania Leads Crowd in Lord's Prayer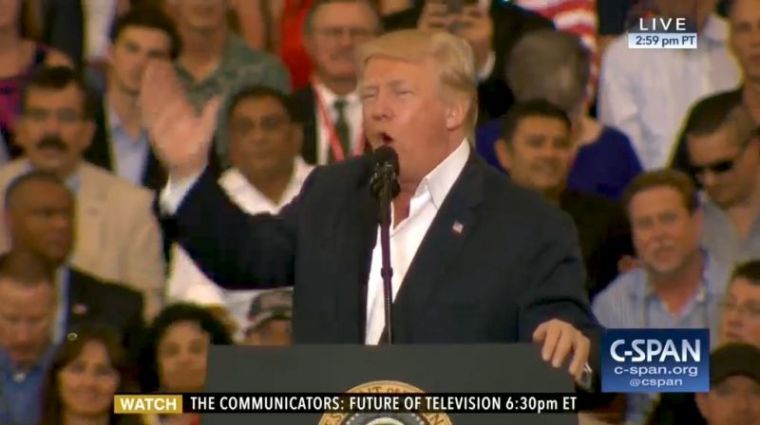 President Donald Trump spoke to thousands of supporters at a rally in Melbourne, Florida, on Saturday, blasting the media, which he said were "part of the corrupt system," and raising issues facing the country, including jobs, national security, crime and terrorism. First Lady Melania Trump led the crowd in a reading of the Lord's Prayer.
"I want to speak to you without the filter of the fake news," Trump, who was introduced to the supporters by Melania, said at the "Make America Great Again Rally."
"They are part of the corrupt system," Trump added. "They have their own agenda and their agenda is not your agenda. In fact, Thomas Jefferson said, 'Nothing can be believed which is seen in a newspaper. Truth itself becomes suspicious by being put into that polluted vehicle.' That was June 14, my birthday, 1807."
The line to get into the Orlando-Melbourne International Airport hangar was about a mile long with roughly 29,000 people, according to some reports. Melbourne police said about 9,000 people attended the president's rally, according to Voice of America, but some said a cord of about 20,000 stood outside.
The president also talked about initiatives his administration has taken as he had promised during his campaign.
"I'm here to tell you the incredible progress we have made in making America great again," Trump told the crowd. "I'm here because I want to be among my friends and among the people."
"Our plans for the future, they're big and they're bold and it's what our country is all about, believe me… And by the way, we are going to be submitting in a couple of weeks a great health care plan that's going to take the place of the disaster known as Obamacare."
The president said the government-backed health care system "will be repealed and replaced."
Trump also talked about border security, rebuilding the military and defeating the Islamic State terror group, which is also known as ISIS, ISIL and Daesh. He also criticized the court ruling that halted his executive order on immigration.
"A great spirit of optimism is sweeping, and you see it; it's sweeping all across the country," Trump said. "Look at what's happening to the stock market. Look at what's happening to every poll when it comes to optimism in our country. It's sweeping across the country."
Melania led the crowd in a reading of the Lord's Prayer.
"The America we envisioned is one that works for all Americans," she said. "I will always be true to myself and be truthful to you no matter what the opposition is saying."
She added, "My husband is creating a country of great safety and prosperity."
During the flight to Melbourne from Trump's Mar-a-Lago resort in Palm Beach, Florida, a reporter asked Trump why he was holding a campaign-type rally.
"Life is a campaign," Trump was quoted as replying. "To make America great again is absolutely a campaign. It's not easy, especially when we're also fighting the press."