Trump Told Words Can Be 'Destructive' and 'Divisive' in Christmas Eve Homily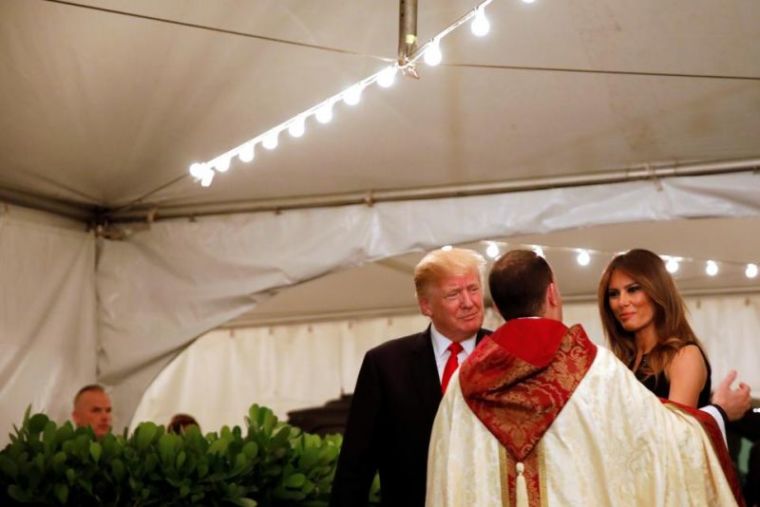 President Donald Trump heard an unusual Christmas Eve sermon Sunday night when he attended an Episcopal service in Palm Beach, Florida.
While many church pastors across the country focused their Christmas eve homilies on the meaning of Christmas and the gift of salvation, the president, first lady Melania Trump, and those in attendance at the Episcopal Church of Bethesda-by-the-Sea's 10:30 p.m. service were told about how words can be destructive.
According to a White House press pool report, the church's rector, the Rev. James Harlan, gave a homily that "centered around the themes of the power of words and God's light."
The report states that Harlan quoted South African revolutionary Nelson Mandela: "It is never my custom to use words lightly. If 27 years in prison have done anything to us, it was to use the silence of solitude to make us understand how precious words are and how real speech is in its impact on the way people live and die."
Harlan also asserted that "words matter."
"Proverbs 18, for example, says death and life are in the power of the tongue," the reverend was quoted as saying by a Washington Post transcript of the homily. "Words can build up or tear down. Words can speak truth or obfuscate truth. Words convey information, emotion, motivation."
Harlan also reportedly talked about the healing power of God's Words, which he said were used to make the universe. However, he stressed that words can have a "divisive potential."
"Your words and mine too often give voice to and empower the darkness that sometimes seems to loom so large," Harlan said. "Your words and mine can have as much destructive and divisive potential as creative and healing potential. But God's Word, made flesh in Jesus, whose incarnation we celebrate on this holy night, that word is perfect and pure light."
"That word is light that casts out darkness and fear. That word creates within and around us love and peace. That word enlightens us to see who we truly are: beloved children of God. And herein lies, I think, the greatest miracle about this light, this light of God's love," Harlan continued. "This light that became flesh in Jesus is also within you and me. The light of God's love and Jesus is at the core of who we truly are. That creative healing light of God's love is longing to shine forth from within you and from within me to bring light to our lives and to the world."
The sermon ended with Harlan instructing the audience to "[l]et that light shine in our words and our actions in our love for every human being."
Harlan's sermon comes as Trump is often criticized for his abrasive and confrontational use of Twitter. On multiple occasions, Trump has used Twitter to bash and demeen those critical of him and call them names.
Trump has also been heavily criticized for a number of things he said on the campaign trail and during his presidency that many would consider to be unpresidential.
Bethesda-by-the-Sea is the church where Donald and Melania Trump were married in 2005. The Washington Post reports that Trump also attended the church's Christmas Eve service in 2016.
The Trumps attended the service there because they are spending Christmas at Trump's Mar-a-Lago resort. According to the press pool report, the service included the songs "God Rest Ye Merry Gentlemen" and "O Come Let Us Adore Him."
When it came time for the peace offerings, the pool report states that a crowd of people gathered around the president to shake his hand. The president also reportedly took communion at the service.
According to Palm Beach Post, the Trumps arrived shortly after the service began and were greeted with an ovation while the church choir performed "Candlelight Carol."
Below is a video of the Trumps attending Christmas Eve service in 2016: