Trusting Iran But Not Verifying Nuclear Weapons
Trusting Iran But Not Verifying Nuclear Weapons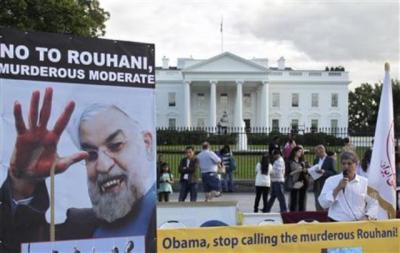 The New York Times is ever the voice of hopeful liberalism. The famed "Gray Lady" recently reported on the status of nuclear talks between the U.S. and Iran. Those talks in Vienna are headed "down to the wire" as the November 24th deadline nears.
Consider this paragraph from a story filed earlier this month by the Times's knowledgeable David Sanger:
Iran has lived up to all of the provisions of a temporary agreement with the West it signed a year ago. But a report issued by the International Atomic Energy Agency [IAEA] on Friday confirmed that it has thwarted inspectors seeking information about suspected experiments and designs that would point to a military use of its nuclear program.
Let's read the key portion again: Iran has thwarted inspectors seeking information. And Iran has prevented the IAEA from confirming whether or not Iran's mullahs are working toward a bomb.
This vital information has been withheld. This crucial data has been hidden. Does this sound like a regime that we should trust?
Consider the history of the current regime in Tehran. They seized our U.S. Embassy and its multi-acre compound on November 4, 1979. That embassy compound is sovereign U.S. territory, as much a part of the United States of America as Long Island or the Aleutian Islands are. To seize another nation's territory is recognized in international law as an act of war.
It is also an act of war to kidnap diplomats and Marines from a U.S. Embassy. The Iranian mullahs held 52 Americans hostage for 444 days, from November 4, 1979 until President Ronald Reagan's Inauguration on January 20, 1981. The jubilation that followed the release of those hostages may have led us to forget that these Americans were beaten, tortured, and repeatedly subjected to mock executions. Media reports at the time echoed the lead stories that they had all been released "unharmed." We can only credit those reports if we believe that to be imprisoned for over a year and regularly threatened with death is not psychologically harmful.
The mullahs who rule Iran with an iron fist also invented suicide bombing. They used their proxy group—Hezbollah—to blow up the U.S. Marine compound in Beirut, Lebanon, in October, 1983. They murdered 241 Marines and Navy Corpsmen as they slept.
More recently, the regime in Tehran resorted to brutal methods to suppress a pro-democracy movement that arose in response to a fraudulent election in 2009. Neda Soltan, 26, was among thousands of protesters who had taken to the streets of the Iranian capital to demand democracy in the world's largest Shi'ite country. Neda—whose name means "voice" in Farsi—was shot in the chest by the regime's security forces. Her death—seen on the Internet throughout the world—became a symbol of the mullahs'
oppression of their own people.
Even today, Iran is holding an American citizen, Pastor Saeed Abedini, in prison. Pastor Abedini's only "crime" is to return to his native land, Iran, to start an orphanage. Rev. Franklin Graham and the Christian relief organizations, Samaritan's Purse, has kept the case of Pastor Abedini in the headlines.
Saeed was arrested in 2012 when he was visiting his former homeland to build an orphanage. Since then, he has suffered brutality and beatings for his faith from within the prison's walls. Now ISIS militants are issuing death threats against Saeed, and imprisoned members of al Qaeda have already attempted to murder him as well. Saeed has told his family that he fears for his life and is forced to refuse allotted prison yard time to avoid these dangerous situations.
We have learned that President Obama has written to Iran's "supreme leader," Ayatollah Ali Khamenei urging him to be reasonable. Our president wants this Shi'ite Muslim cleric to understand that we are on the same side when it comes to "degrading and ultimately destroying" ISIS, the Sunni Muslim militant group that has been cutting a bloody swath through Syria and Iraq in recent months.
Our president's letter was a confidential one, we are told, but it remains to be seen how reassured the Sunni Muslims who rule Saudi Arabia and the Gulf States by the president's extending a hand to the Iranian regime that most menaces their shaky thrones.
To broker the deal in Vienna, Mr. Obama has sent his Sec. of State, John Kerry. Kerry, former chairman of the Senate Foreign Relations Committee, has a long history of interest in foreign affairs. He began by testifying before that very committee when he was a young Vietnam War protester. He accused his fellow American warriors in Southeast Asia of behaving "like Genghis Khan." He never made headlines describing North Vietnamese Communist atrocities.
With that debut, he moved on to state politics in Massachusetts. There, in 1984, he was elected to the U.S. Senate. The major issue he embraced was the so-called Nuclear Freeze. In response to aggressive Soviet moves in Eastern Europe, placing SS-19 and SS-20 missiles in the USSR's satellite countries, Kerry urged the U.S. and Western Europe simply "to freeze." Do nothing. Hope for a positive Soviet response.
We are seeing something very similar in the protracted negotiations between Sec. Kerry and the Iranians. This administration has rejected President Reagan's formula of "Peace through Strength," presiding over the largest military cuts in history. And they have rejected as well Reagan's watchword in dealing with a dangerous enemy: "Trust, but verify." For President Obama and Sec. Kerry, the plan is to "Trust Iran and don't Verify."
Should any of us take comfort in that?
Ken Blackwell and Bob Morrison are senior Fellows at the Family Research Council in Washington,D.C.