Twitter User Behind @HiddenCash Scavenger Hunt Money Giveaway Creating Public, Media Frenzy in Los Angeles
A social media scavenger hunt that includes envelopes of money left in hiding places has caused a bit of a frenzy in the Los Angeles area for the last couple of days thanks to someone with the username @HiddenCash on Twitter.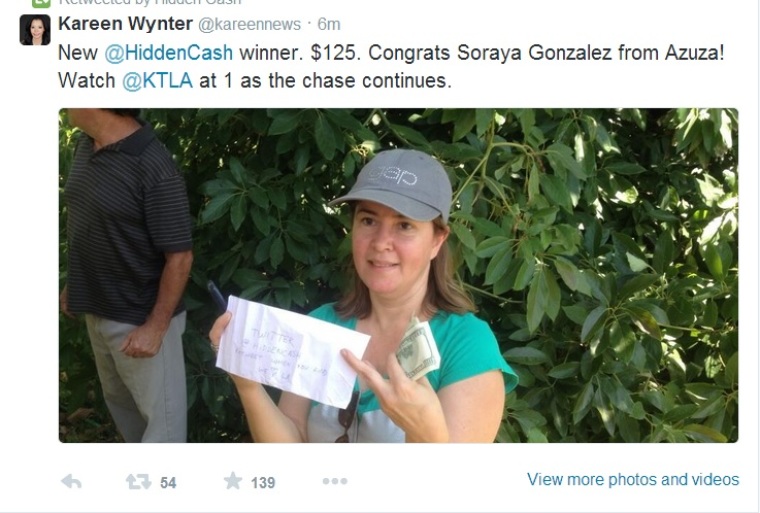 In Burbank Thursday evening, aerial video from news choppers showed crowds "rushing bus stops and grassy knolls as cars backed up on surface streets," local NBC News reported. "Burbank police called the situation a traffic nightmare, and expressed safety concerns about the frenzy" occurring after the clues were tweeted.
With more than 340,000 Twitter followers and growing, @HiddenCash, described as a successful real estate investor, has been hiding money in different California cities and promises to do it again Friday evening.
"LA area: There'll be 3 drops this morning, and a few more this evening. Clues coming," @HiddenCash tweeted Friday morning.
Then, later: "First clue to first drop: Little old lady was from here, and I mean the old part. Be safe. Have fun. Pay it forward," and "Final clue to 1st drop: If you were a firefighter who likes to sing, you'd know me ... pic.twitter.com/iNTZOJ2vXl" with a photo of the envelope at its location.
By mid-morning Friday, most local TV news stations in Los Angeles had at least one reporter on the story and were posting photos of those finding the envelopes with money.
"New @HiddenCash winner. $125. Congrats Soraya Gonzalez from Azuza! Watch @KTLA at 1 as the chase continues," tweeted KTLA reporter Kareen Wynter.
@HiddenCash has responded to city and county officials expressing concern about safety and traffic during the money dashes throughout the past two days by interjecting tweets that encourage everyone to "Be Safe. Be Happy."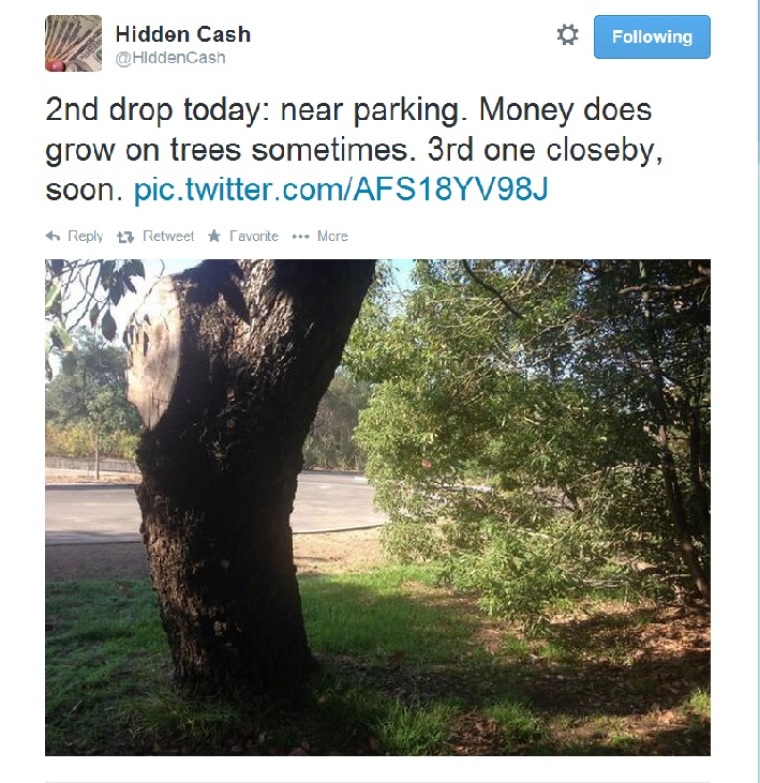 However, the person behind the frenzied cash giveaway appears to have no intentions of slowing down the social media-driven contests.
"Not stopping and no plans to stop. Gonna keep getting bigger and better. Just taking a break from talking to media is all. Back to the fun," @HiddenCash tweeted Friday.
An explaination by @HiddenCash about why the cash giveaway was started, and the caution to be safe can be read by clicking here: http://www.twitlonger.com/show/n_1s1v2po.