Tyler Perry Shares Deep Love for Jesus and His Hope 'The Passion' Will Spark Revival in America (Interview)
Tyler Perry Shares Deep Love for Jesus and His Hope 'The Passion' Will Spark Revival in America (Interview)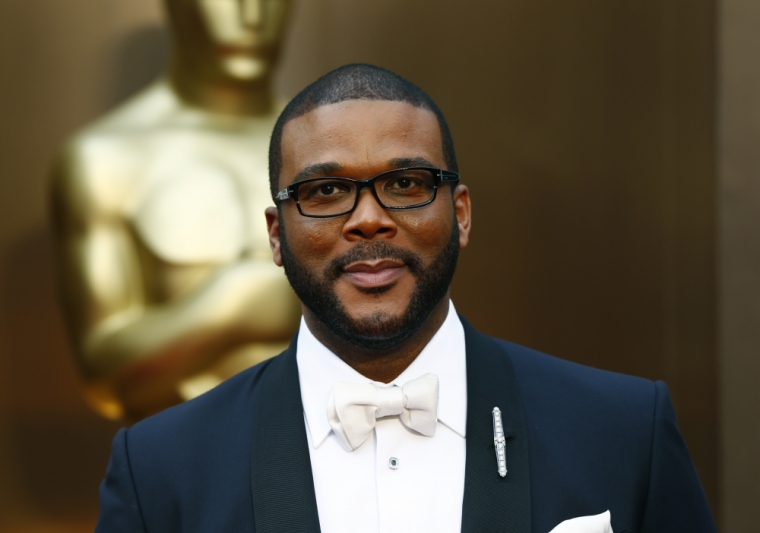 The multi-talented filmmaker commended FOX and said he's so proud of the producers for airing "The Passion." "This takes great boldness to do this kind of thing and I'm excited about it."
"The Passion," narrated by Perry, includes a star-studded cast of Jencarlos Canela (Jesus Christ), Chris Daughtry (Judas), Prince Royce (the disciple Peter), Michael W. Smith (disciple), Seal (Pontius Pilate) and Trisha Yearwood (Mary, the mother of Jesus), with performance by Yolanda Adams, among others.
"All of us honoring the greatest celebrity of all," Perry said in an emotional voice.
When asked what viewers can expect from the live televised event, Perry enthusiastically said there has never been anything like "The Passion" performed live on TV.
"First of all, this story is not told on television at all. I cant even remember the last time it was told. Maybe in the past it has been, but I can't recall in my generation, and the next generation, the story of the resurrection and the crucifixion of Jesus Christ being told on television with music and being told in modern day times so that they could understand it," he continued.
"There are no camels, there are cars, there are no cloaks, they're wearing jeans, and all those things that we all can relate to," He explained. "It's almost as if Jesus was walking around with us today, so that's what's different about it. It brings it into a language that we all understand."
Perry said along with doing "The Passion" he is also writing and working on his first project that is as bold and in your face with the message of faith as this production is. And he hopes "The Passion" will help send a message to Hollywood that people want to see more inspirational TV shows.
"The reason I wanted to do 'The Passion' was 'cause it had the right substance for my soul. I got to go off, I felt the chills, I got to feel the movement of the Holy Spirit, and that just keeps me firm," he shared.
"I always go back to my mother, because my mother didn't have millions of dollars to give me but what she taught me was this very story that I'm being apart of and sharing with the world," he told CP. "The story of Jesus' life, Jesus' resurrection and death, and more than anything His compassion and love for us all," the New Orleans native said.
"So what it means for me is beyond the breath that I breathe. It means that I have some hope to become, and to be, and to live better, and be forgiven, and realize that when I make mistakes or I fall short I can go to the blood. And that, for me, is beyond anything," Perry added.
Perry further explained that he hopes "The Passion" live event on FOX will start a revival all over America, saying:
"I think that this is going to open up so much dialogue and so much conversation, which is what we want. For Christians who are very excited but also for non-believers, people who don't believe and who can see it for the first time. My hope and my prayer is that the people of faith that believe in the Christ that I believe in will lead the charge and will not only be watching, but to pray for and during this entire process so that it comes off the screen in a way that we all want — with the intention of reaching, inspiring, encouraging and pointing more people to Christ."
The story will unfold live at some of New Orleans' most iconic locations, while featuring a procession of hundreds of people carrying a 20-foot, illuminated cross from Champion Square outside the Superdome to the live stage at Woldenberg Park on the banks of the Mississippi River.
The elaborate production is a format originally created in the Netherlands. The Dutch version of the epic event has been produced annually since 2011 and has aired for the last five consecutive years.
"The Passion" is scheduled to broadcast live on the FOX network on Palm Sunday, March 20. For more information, visit thepassion.com.
jeannie.law@christianpost.com