UN Accuses ISIS Militants of 'Barbaric' Sexual Violence; Says Humanitarian Crisis in Iraq Has Reached Its Highest Level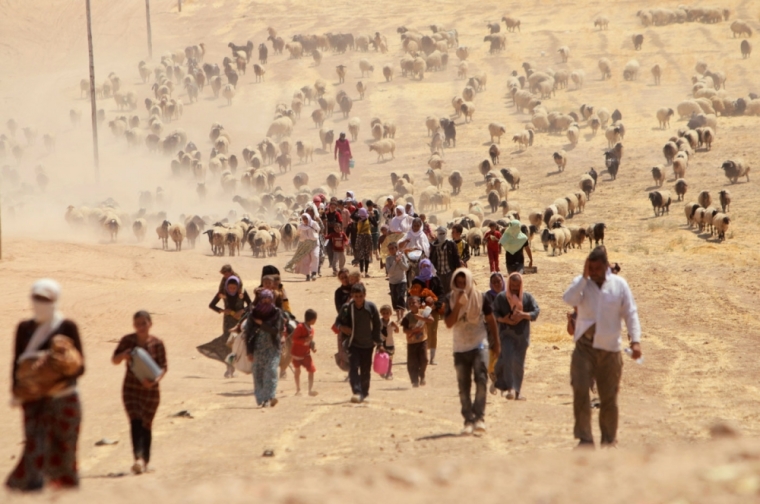 The United Nations has declared the highest level of humanitarian emergency in Iraq and has accused Islamic State militants of carrying out "barbaric" acts of sexual violence against women and teenage boys and girls belonging to Iraqi minorities.
U.N. special representative Nickolay Mladenov said that the declaration by the UN of a "Level 3 Emergency" in Iraq would "facilitate mobilization of additional resources in goods, funds and assets to ensure a more effective response to the humanitarian needs of populations affected by forced displacements," BBC News reported on Thursday.
The Islamic State, formerly known as ISIS, has taken over significant territory in Iraq and Syria, capturing major cities, carrying out violent attacks on minorities, including Christians, and forcing close to 1.2 million people to flee their homes.
Militants have been accused by humanitarian organizations of violent acts such as beheading children and carrying out "savage rapes."
"We are gravely concerned by continued reports of acts of violence, including sexual violence against women and teenage girls and boys belonging to Iraqi minorities," Mladenov and Zainab Hawa Bangura, the special representative of the Secretary-General on Sexual Violence in Conflict, said in a joint statement.
"Atrocious accounts of abduction and detention of Yazidi, Christian, as well as Turkomen and Shabak women, girls and boys, and reports of savage rapes, are reaching us in an alarming manner."
Bangura and Mladenov added that close to 1,500 Yazidi and Christian persons may have been forced into sexual slavery.
The U.N. officials strongly condemned the targeting of women and children, identifying such acts of sexual violence as "grave human rights violations" that can be considered war crimes and crimes against humanity.
Kurdish officials have meanwhile warned that the situation for 150,000 refugees in Dohuk city is now critical.
The U.N. had estimated that tens of thousands of people, most from the Christian and Yazidi religious minorities, had also been in critical situation on Mount Sinjar, but U.S. forces conducted a brief mission that assessed that many had managed to flee.
The U.S., which last week launched airstrikes into northern Iraq against Islamic State targets, conducted its seventh airdrop of food and water on Wednesday, noting that it had delivered more than 114,000 meals and 35,000 gallons (160,000 litres) of drinking water to those trapped.
The World Health Organization has added that it is supporting the delivery of urgently needed services to those still trapped on Sinjar Mountain.
"The humanitarian situation of the civilian population on Sinjar Mountain is alarming due to the narrow corridors for transporting essentials such as medicines, food and water, especially with the soaring temperatures which are reaching up to 111 degrees Fahrenheit (44 degrees Celsius)," said Jaffar Hussain, WHO's representative to Iraq.
The U.S. military has announced that it is sending weapons to Kurdistan to aid in its battle against the Islamic State militants. A Christian leader in the Middle East has said that although Christians in the region welcome the help, they believe it is "too late and not enough."
"[President Barack] Obama needs to do more to slow down Islamic State and to stop [them] completely," Munir S. Kakish, chairman of the Council of Local Evangelical Churches in the Holy Land, told The Christian Post in an email on Tuesday.
"Yes, they need to send more aid and stop IS both in Syria and Iraq. Stop them to the point of never again [carrying out] barbaric slayings of human beings. If they stop all those foreign groups, this means all the refugees that left can return to their homes. I feel very strongly that the West must move fast and with great power. Yet I feel it is late, but never too late to do the right thing."