Unflappable Hero Charles Ramsey Says Past Domestic Violence Arrests Made Him a Better Man Today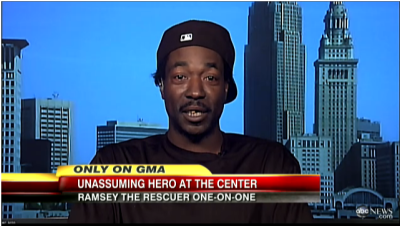 Still riding a wave of cheers from the public for his role in the selfless and daring rescue of three young women and a girl in Cleveland, Ohio, unflappable Internet sensation Charles Ramsey said media reports of domestic violence arrests in his past were teaching moments which helped him become the man he is today.
On Monday, Ramsey helped Amanda Berry, 27, her 6-year-old daughter Jocelyn, Gina DeJesus, 23, and Michelle Knight, 32, escape from a house where they were being held captive as sex slaves for almost 10 years.
His star began its meteoric rise after several animated media interviews he gave about the rescue went viral across social media. Subsequent to those interviews, however, a number of websites revealed information on three separate domestic violence arrests involving Ramsey's ex-wife recorded between 1997 and 2003.
"I've made amends with the people involved and we've all moved on and grown up," said Ramsey in a TMZ report. "Those incidents helped me become the man I am today and are the reason why I try to help the community as much as I can ... Including those women."
"If I had so much hatred for women, I would have minded my own business this week and walked away instead of risking my life to save someone else."
Ramsey's ex-wife Rochelle confirmed that Charles eventually apologized for his behavior and the two are now on an "okay basis."
On Thursday, MSNBC Politics Nation host Al Sharpton argued on his show that Ramsey's past should not detract from his heroic deed.
"The dramatic story from Cleveland has shown us that an ordinary man, even an imperfect man, can be a hero," said Sharpton. "We know what he did when he became famous for doing the right thing."
"Those young women were held prisoners for 10 years, and during that time many better dressed people drove by that house, until Charles Ramsey heard a voice cry out for help. That is all that matters and he is a hero," Sharpton further declared.
A Cleveland news station, WEWS NewsChannel 5, was forced to apologize to its viewers on Thursday after they complained about the station's untimely reporting of Ramsey's arrest record.
"TO OUR READERS & FOLLOWERS: We heard you. Wednesday night, we made a poor judgment call in posting a story about Charles Ramsey's criminal record and how he's since reformed. While the story was factually sound, the timing of it and publication of such information was not in good taste, and we regret it," noted the station's apology on its Facebook page.
"Your comments prompted us to quickly remove the story from our website and Facebook page, but we know we can't erase what we've already done. Ramsey is a hero for his actions, and we recognize that. Thank you so much for your feedback."
"A 'personal' apology out to Charles Ramsey, from you would be acceptable and a very nice gesture ... so get on that sooner than later please ...," wrote Gail Matteo Casey in response to the Facebook apology.
"You realize that by posting this you're basically telling all of Facebook that Charles Ramsey has a criminal background - Again. You didn't need to address why you guys were apologizing, we already know what bad taste story was posted on here last night. Factual or not - it's completely irrelevant to the story of the three girls being found alive and Charles being a hero. It's public record and if we wanted to dig up info on his past or anybody else's, we can do that on our own without your tasteless news articles," wrote another critic of the report, Mark Sweet.