University of Miami Establishes Chair for Study of Atheism With $2.2M Gift From Wealthy Atheist
University of Miami Establishes Chair for Study of Atheism With $2.2M Gift From Wealthy Atheist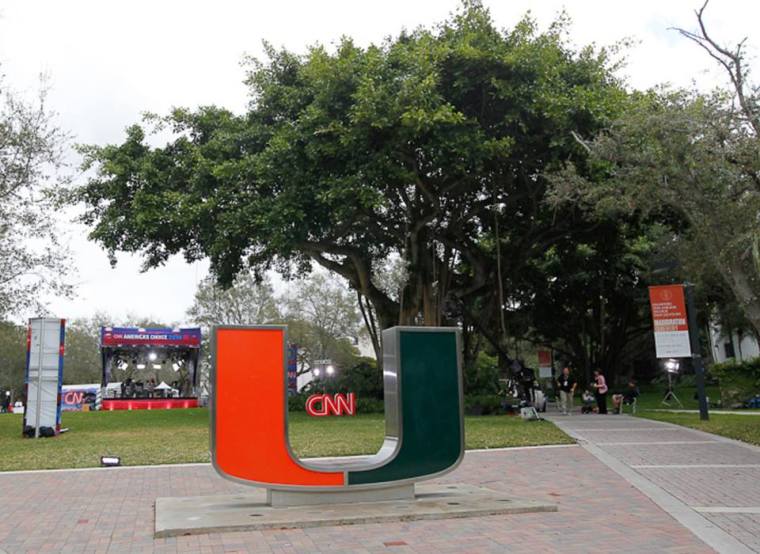 After years of discussion, the University of Miami has accepted a $2.2 million gift from a wealthy atheist to endow what it says is America's first academic chair "for the study of atheism, humanism and secular ethics."
According to The New York Times, the gift was also the largest of the many Louis J. Appignani, a retired businessman and former president and chairman of the modeling school Barbizon International, has ever given to humanist and secular causes. The university has not yet publicly announced the new chair but is expected to conduct a search for a scholar to fill the position.
"I'm trying to eliminate discrimination against atheists," Appignani, who is 83 and lives in Florida, told the Times. "So this is a step in that direction, to make atheism legitimate."
In a release Monday, the university said Appignani's gift will help foster new interdisciplinary courses that will among other things examine the implications of atheism.
"The South Florida resident's generous gift will propel new interdisciplinary courses, scholarship, and research concerning the philosophical underpinnings, ethical status, and implications of atheism, as well as its historical and cultural significance," the release said.
"The new chair will be an interdisciplinary appointment held by a distinguished scholar whose research and interests include the study of atheism — understood, for purposes of this gift, as a philosophical approach that emphasizes the methods and techniques of science, logic, and reason in dealing with questions of knowledge, ethics, politics, and social policy. The new chair also will offer annually a minimum of one course on the history, philosophy, or influence of atheism," it continued.
Richard Dawkins, the iconic evolutionary biologist and atheist who wrote The God Delusion told the Times it was a big step in shaking of religion.
"I think it's a very bold step of the University of Miami, and I hope there will be others," he said. "It's enormously important to shake off the shackles of religion from the study of morality."
Appignani founded The Appignani Foundation in 2001 to "support activities that have a significant, vital and measurable long-term cumulative effect on our planets population and environment. This can be accomplished by supporting creative free-thought organizations which spread humanistic values and education programs which develop critical thinking skills."
Harvey Siegel, a professor of philosophy who has helped to broker the deal with the University of Miami, said he first began discussing the idea of the atheism chair with Appignani more than 15 years ago, when he was chairman of the philosophy department.
"There was great reluctance on the part of the university to have an endowed chair with the word 'atheism' in the name, and that was a deal-breaker for Lou," Siegel said. "He wasn't going to do it unless it had the word atheism in it."
Thomas J. LeBlanc, executive vice president and provost, told the Times that the university worried about atheism in the name of the chair because they didn't want anyone to think the school is advocating atheism.
"We didn't want anyone to misunderstand and think that this was to be an advocacy position for someone who is an atheist," he said. "Our religion department isn't taking an advocacy position when it teaches about Catholicism or Islam. Similarly, we're not taking an advocacy position when we teach about atheism or secular ethics."
LeBlanc also insists: "This is an area where people can get overly excited if they don't actually look carefully at what's happening. The idea that there are nondeity approaches to explaining our surroundings is not controversial in the academy."
Appignani, according to the university, is an avid supporter of the Richard Dawkins Foundation. He founded the Appignani Humanist Legal Center in Washington D.C., a project of the American Humanist Association.
He will also be endowing another UM chair, The Appignani Foundation Bertrand Russell Chair in Philosophy, through a bequest in his estate plans.
The percentage of Americans who claim no religious affiliation was 23 percent of the population in 2014, up from 16 percent in 2007, explains a report by the Pew Research Center. Younger people, says the report, are even less religious. Some 35 percent of millennials say they identify as atheist, agnostic or have no religion in particular.