New 'Unsung Hero' trailer shows humble upbringing of Rebecca St. James, for King & Country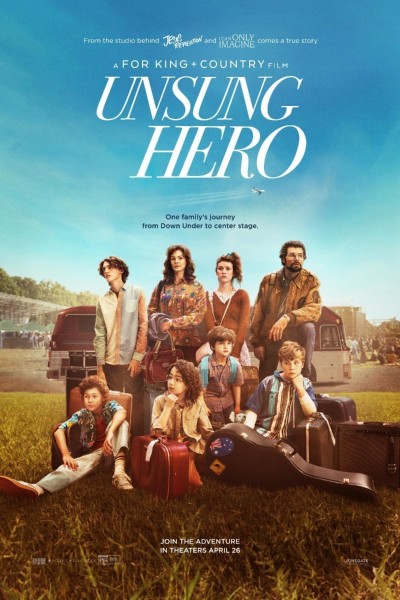 The trailer for the upcoming faith-based film "Unsung Hero," which tells the backstory of Grammy Award-winning Christian artists Rebecca St James and her brothers, Luke and Joel Smallbon, depicts their family's humble beginnings and transition from Australia to America. 
Released this week, the trailer shows the family's struggles in the years before the siblings attained fame in the Christian music industry. It also gives fans a glimpse into the cultural and financial obstacles the Smallbone family encountered along their journey. 
Through the strength of her faith, Helen Smallbone, the family's matriarch, helped her husband and their family of nine stay strong and resilient through life's many challenges and adventures. As they hustled to make ends meet, the Smallbones discovered their children's musical talents.
The film is being released under Kingdom Story Company, the production team behind the blockbuster hit "Jesus Revolution," in conjunction with Candy Rock Entertainment, owned by actress Candace Cameron Bure. 
The family dramedy was written and directed by Joel Smallbone and Richard Ramsey and produced by Justin Tolley, Josh Walsh and Luke Smallbone.
Along with Joel Smallbone, who plays his father on screen, "Unsung Hero" features Daisy Betts, Kirrilee Berger, Jonathan Jackson, Lucas Black, Candace Cameron Bure, Terry O'Quinn and Lady A's Hillary Scott.
"When David Smallbone's successful music company collapses, he moves his family from Down Under to the States, searching for a brighter future. With nothing more than their seven children, suitcases, and their love of music, David (Smallbone) and his pregnant wife, Helen (Betts), set out to rebuild their lives, the film's synopsis reads. 
"Helen's faith stands against all odds and inspires her husband and children to hold onto theirs. With their own dreams on hold, David and Helen begin to realize the musical prowess in their children, who would go on to become two of the most successful acts in Inspirational Music history: five-time Grammy Award-winning artists for King + Country and Rebecca St. James."  
"Unsung Hero" is set to release on April 26, 2024.