US Helps Kim Jong Un by Decreasing Aid, North Korean Defector Groups Say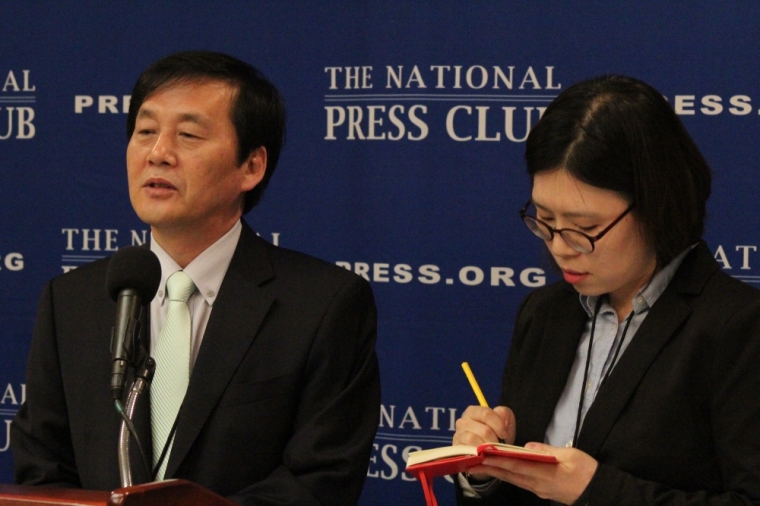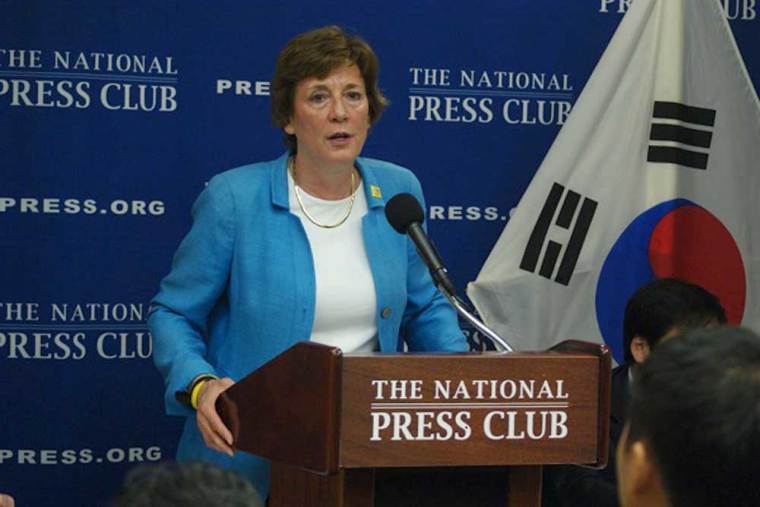 View Photos
WASHINGTON — The lack of aid given to North Korean defector organizations by the United States and other nations is emboldening Supreme Leader Kim Jong-un to continue his regime's brutal disregard for human rights, the director of Free North Korea Radio told reporters Monday.
At a National Press Club press conference kicking off North Korea Freedom Week 2015, Free North Korea Radio director, Kim Seong-min, called on the U.S. government to stop decreasing its funding to organizations like his and other North Korean defector NGOs, which work to expose the regime's lies, cover-ups and abuse towards its own citizens.
Kim, who escaped from North Korea in 1996, established Free North Korea radio in 2004 and has been broadcasting daily into North Korea from South Korea since 2005 in order to provide the North Korean people with the truths they don't hear from state sponsored media about the government they live under.
Kim claims that his organization and the many other North Korean defector organizations represented during this week's festivities, are the greatest weapons available to bring down Kim Jong-un's regime and unify the Korean peninsula.
However, Kim explained that lack of funding is the only roadblock that stands in the way for many of these organizations. Kim further explained that in the last three to five years, the U.S. State Department has drastically decreased its funding to various North Korean defector organization projects and the work of these organizations, such as North Korea People's Liberation Front, New Korea Women's Alliance, North Korea Intellectuals' Solidarity and Fighters for Free North Korea, are suffering because of it.
"We believe that the work that North Korean defector organizations have done is the key to the unification of the Korean peninsula," Kim asserted through his translator, Kang Seo. "We believe that North Korean defectors are the bridge to the future of North Korea. We believe that, as the U.S. government has done for many [persecuted] societies, we believe that the support from the U.S. government can open up North Korea."
Suzanne Scholte, chairman of North Korea Freedom Coalition, agreed and said, "Because of the bravery of these folks, the world knows about the horrific suffering of North Korean people, the world knows about the political prison camps, the world knows about the trafficking of Korean women, the world knows that this regime is involved in all these other illegal activities like counterfeiting, drug trafficking, selling weapons of mass destruction. The world knows. But, what does it mean if we know this and we don't do something about it?"
"There is no greater resource than the North Koreans who have escaped. They know how to get information in and how to get information out and have proven time and time again that they know how to rescue refugees. What they lack are the resources. If we could just give them the resources they need to be able to do their mission, I believe you would see the regime change and there would be regime collapse there and peace leading to unification with North Korea."
Many of the NGOs present at the event have been instrumental in allowing those inside North Korea to see that there is a better option than a life under the Kim regime. Along with Free North Korea Radio, Fighters for Free North Korea have been using hot air balloons to drop leaflets and other informative items in order to inform people that their lives do not have to be as restricted as they are.
"Because the work of North Korean defector NGOs have been so effective, the regime has continuously threatened these people sitting inside this room, however, they are not intimidated because this is the work for their people inside North Korea," Kim stated. "The problem is that we have a lack of resources. We can do many things but the only problem is that we don't have much resources to carry out our plans. We call for the U.S. government to, in order to stop the regime, to communicate against these crimes against humanity."
"Since the international community has hesitated to bring down the regime, right now we are witnessing Kim Jong-un having more and more power and [using] his power in media and in society," Kim continued. "Me and other defectors agree that if, [instead of] South Korean government [spending] money to buy real expensive military devices, they would [rather] give [money] to North Korean defectors, we can definitely bring the North Korea regime down."
As North Korea ranked No. 1 on the Open Doors USA World Watch List of greatest violators of Christian persecution for the 13th-consecutive year, North Korea Freedom Week 2015 will include various events in New York and Washington, D.C. that aim to spread awareness about the work that defector NGOs are doing and also aim to further spread awareness about the appalling mistreatment of the North Korean people.
On Monday evening, a new 100-page report will be released highlighting how North Korea is an apparent state sponsor of terrorism, even though North Korea was removed from the State Department's list of state sponsors of terror in 2008.
On Tuesday, the Heritage Foundation will host a discussion called "Maintaining Focus on North Korea Human Rights Violations." The program will discuss what needs to be done to improve the human rights conditions in North Korea. The three-hour event will include a panel session with North Korean defectors and another panel session with U.S. North Korea experts.
At 8 p.m. on Tuesday, a protest will be held outside the Chinese Embassy in Washington D.C. to protest the Chinese government's brutal treatment of defected North Korean refugees.
On Wednesday, a congressional hearing will be held on Capitol Hill to address North Korea's participation in the human trafficking marketplace.
The defectors will travel to New York City on Thursday to speak in a discussion hosted at the United Nations by the United States Mission to the U.N. On Friday, a forum will be hosted in Washington, D.C. at the Rayburn House Office Building which will further discuss what needs to be done to end the Kim regime's "reign of terror."