Utah Woman Who Organized 'Uprising' Claims Success as Supreme Court Halts Same-Sex Marriage in Utah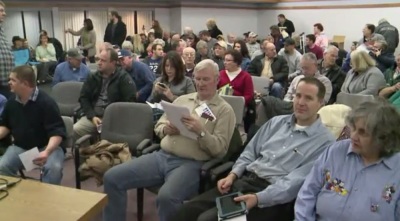 Utah conservative activist Cherilyn Eagar made headlines over the weekend after more than 300 people attended each of her Friday and Saturday night meetings that attempted to catalyze an "uprising" in the state to fight a judge's decision to overturn a ban on same-sex marriage.
With the Supreme Court's decision on Monday that granted an emergency appeal to Utah and blocked any new same-sex marriages until the federal appeals court examines the issue, Eagar claimed victory.
"We have had success with what we've done," Eagar told The Christian Post. "...This was an important timing. We felt that we needed to be very strong with our message that Utah is going to take a stand against what the judge has done."
However, Eagar is far from conceding that she and her fellow activists' battle to keep same-sex marriage from being legal in Utah is over.
"[The fight has] just begun," Eagar said. "We believe that the energy that came forward had a lot to do with the message that got to the Supreme Court."
The Supreme Court's decision will remain in place pending the outcome of the case, which is currently headed to the 10th U.S. Circuit Court of Appeals. That court must decide whether to uphold Judge Robert Shelby's December 2013 decision to overturn Utah's constitutional amendment banning same-sex marriage.
"I'm very pleased that the decision was made. [But] all it does is it gives us a little more time to get more organized [before the next case]," said Eagar.
Although Utah overwhelming passed Proposition 3, a state constitutional amendment banning same-sex marriage in 2004, Eager said that she knew over a decade ago that it would be tough to preserve the law. Working with attorneys in 2003 to place the amendment on the ballot, Eagar "paid a lot of attention to news alerts and blog sites from LGBT activists and their campaigns."
"[In these notices] I noticed very strong messaging that was focusing on Utah and [telling supporters] 'We need to gather in Utah, relocate to Utah, and get a mass number of LGBT citizens there so that we can be ready to overturn Utah's law and legalize same-sex marriage,'" she said. "I have to really hand it to the other side. It was probably a really brilliant strategy because the thinking, naturally, is that Utah would be the last holdout."
Ultimately, the messaging of LGBT advocacy groups paid off. Today, Eagar says, Salt Lake City has the largest percentage of same-sex couples raising children in the country.
Eagar, who is Mormon and whose church played an influential role in passing the same-sex marriage ban 10 years ago, acknowledged that her "faith and convictions are a major part of what we are doing."
"It's well known that [the LDS church] has spoken very strongly in favor of 'the family' and specifically encouraging strong marriages and providing a mother and father in every home where there are children," said Eagar.
The activist pointed to her quickly organized yet well-attended meetings in Utah County, the state's second largest, over the weekend, as proof that many of her fellow residents agreed with her message.
She also was comfortable describing her movement as an "uprising" because "that's what we're in the process of building and creating right now. The fact that we had about 300 people in both of those meetings both nights in virtually one day's notice was pretty remarkable and we know that that's going to continue to build."
Arizona Sheriff Richard Mack, who attended and gave a presentation about how the "propaganda that the feds trump the states is just that," disagreed with characterizing the event as an "uprising," but told CP in an emailed statement that it was "definitely a push back."
Mack said that he stressed to his audience that "asserting 'state sovereignty' is a peaceful process," adding that although he did not believe the Supreme Court's decision was impacted by the group's weekend meetings, he felt that it was laying the groundwork for the future.
"The process was already in place before we met," he wrote. "I hope that we do make a difference in all federalism issues and that the governors and all local officials will take stronger stands against federal overreach."